Contributed by

Nakamura Daisuke, Managing Director, ROHM Semiconductor India Pvt. Ltd.,

Britto Edward, Centre Head, Design Centre, ROHM Semiconductor India Pvt. Ltd.

Vijay Bolloju, Manager – Application Engineering, ROHM Semiconductor India Pvt. Ltd.

Niranjan. G, General Manager (ASEAN+India region), Business Development & Technical Marketing Div., ROHM Semiconductor Singapore Pte. Ltd.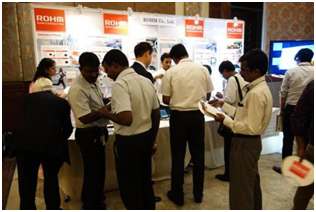 ROHM Semiconductor's Vision for India
ROHM Co., Ltd. is an international semiconductor company headquartered in Kyoto, Japan established in 1958. ROHM's mission is 'Quality is our top priority'. Based on the mission, ROHM keeps providing highly reliable electronic components, ICs, discrete semiconductors, passive components, and modules, for wide-range of applications in the fields such as consumer equipment, IT, automotive, and industrial equipment through its global networks.
In the recently held conference, ROHM Semiconductor presents 'Vision for India'. Their guiding principle is Gandhian Engineering as 'More [features] from Less [cost] for More [masses]'. Following the Gandhian Engineering Principles, ROHM thinks that everybody can afford the comforts of Quality life!

Key Focus
Affordable comfort
Mobility for the masses
Energy independence
ROHM supports 'Make in India' initiative to build locally relevant, locally suitable solutions, Brings quality jobs, Increases Purchasing Power, Reduces the carbon foot.
ROHM achieves the above objectives by:
■Use of application-optimized products: simplifying designs
■Reduced cost-to-Value ratio: making comforts affordable
■Reduced Energy-consumption: reducing cost of usage
■Robust designs: reducing cost of ownership

The concept of 48V system for India
India is driving forward for renewable energy generation. When we use the renewable energy, most of the time output is DC (Direct Current). We need to convert it into AC, to power AC appliances with some losses in energy conversion. The concept is why not design appliances operating also on 48V DC, a dual-power system. We can power directly from alternative source that reduces the losses in the double conversion.
India is in the process of conforming this as a policy in future, such that appliances will have this dual-power supply system that is automatically changeable.
With the growing power appliances market in India, this concept is really beneficial in utilizing renewable energy resources more efficiently.  ROHM joins hand with IIT-Chennai on this test-bed project, for realizing the concept universally, and evaluating the architecture for Indian market.
SiC (Silicon Carbide) innovations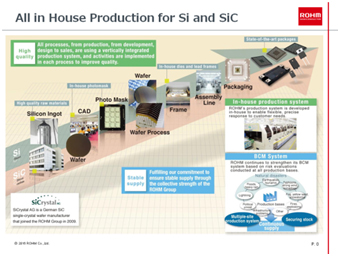 Basically SiC is material innovation happen after Silicon which has limitation such as high voltage, high current. This is overcome by SiC material [Silicon Carbide]. Today for example if you can see 5KV UPS system design which is size of mini refrigerator and there is huge transformer inside. To have that  back-up power of say 2 hours and for that to install cupboard size of DC batteries. This is a current system. But how do I make 5KV UPS system into palm size and that uses a battery back-up as small as your briefcase and still get that 2 hours back-up. The system might look expensive, high-tech, but that all that can happen by innovating devices like SiC.
SiC gives 2 advantages as High-Voltage, High-Current operation at High-temperature, but also High switching.  Switching speeds can be much higher and reduces the transformer size considerably.
SiC is a "Revolutionary Technology" for EV/HEV. SiC used in high power circuits in EV/HEV as On Board Charger, DC/DC Converter, Charging stations. ROHM's SiC devices are already in use for On-Board Charger systems worldwide.
ROHM is also innovating Gallium Nitride [GaN] devices and ROHM have some projects happening based on GaN. GaN and SiC targets different set's applications of High-power market.
As such, ROHM is more concerned that its SiC products displace silicon. SiC devices mostly do not compete with GaN devices. ROHM is already producing highly reliable SiC MOSFET and diode power devices and modules that are available for industrial and automotive applications. The reliability of ROHM's SiC has been revealed to be the same level as that of silicon power devices.
GaN and SiC's properties don't overlap much in applications. GaN's 2-dimensional electron gas dynamics make it the obvious choice at 600V and under. GaN products may take some time to expand in market applications for implementation.
Automotive Focus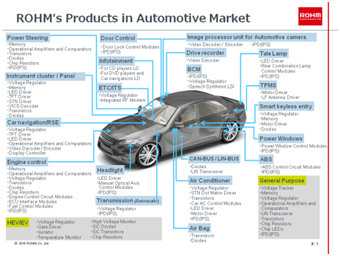 ROHM provides solutions for automotive electronics for body electronics, LED-Headlamps and Power. So the focus will be Power Supply, LED Drivers, Motor Drivers.
ROHM, which offers a variety of car audio ICs and discrete solutions, is expanding its product lineup to meet the needs of new and emerging applications in the automotive industry, including for car navigation and multimedia systems. In addition, following the increased digitization of vehicles and ITS, ROHM is developing ICs and discretes for body and powertrain systems. And as vehicles become increasingly safe, comfortable, and more efficient ROHM will continue to bring new products and devices to market.
'Make in India' support
ROHM can support Make in India from technical support view.  Last year ROHM started Application Design Engineering in India design center.
Services offered by AE team are:
_ Product Selection and recommendation
_ Design assistance & Design Review help
_ Reference designs
_ Evaluation boards & solutions
_ Collaborative development options
ROHM is extensively working with OEMs in India. Most of them face challenges in embedded software and design for very high end digital solutions. ROHM is very strong in analog LSI solutions. These do not require any embedded skill. This will enable manufacturers to adopt solution within short design-time. Now they can make design simpler with our solution that doesn't need specialized embedded skill. This is how ROHM can make 'Make in India' successful. ROHM has its own in-house manufacturing wafer chips. ROHM will design chips for India that will add value for 'Make in India' support.