| | |
| --- | --- |
| | ROHM Co. Ltd.was established in Kyoto, Japan, in 1958. ROHM designs and manufactures semiconductors, integrated circuits and other electronic components. These components find a home in the dynamic and ever-growing wireless, computer, automotive and consumer electronics markets. Some of the most innovative equipment and devices use ROHM products. |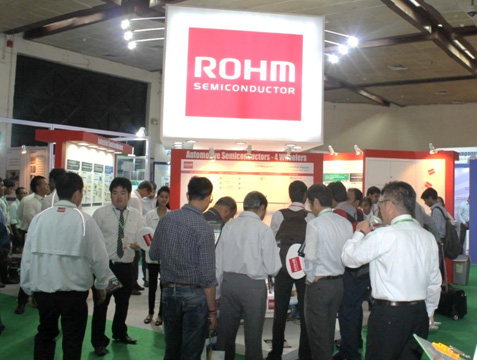 ROHM, a world's leading vertically-integrated manufacturer of Semiconductor devices from Japan, showcases application solutions for growing Indian market, including Automotive, Industrial and LED-lighting.
Electronics Maker – the media partner for this show conducted video interaction with
Akihito Tomii, Director, ROHM Semiconductor India Pvt. Ltd.
He talks about ROHM innovations, products showcased at the exhibition, focus for India market and future plans. He emphasizes their corporate mission as Quality – the TOP Priority.
Key Talk Points
Quality – the TOP Priority
Research for state-of-the-art technology
Total Power Solutions
Engaged in technology cooperation
India Focus Applications
Strategies and Future Plans
ROHM roadmap for next 50 years
"We believe that the sales goal, from the industrial equipment and automotive related sectors targeted at 40% of the total sales."
Full Interview below:
1. How do you look at the Product quality issues in India market?
ROHM's company mission "Quality is our top priority at all times". ROHM is offering high-quality products regardless of market or applications.
Continuous growth segments in electronics market that includes Automotive segment, Industrial equipment segments require ROHM's high-quality, high-reliability and stable supply of wide range of products. We will strengthen our sales even in India market by cultivating quality and reliability.
2. In tough market situation, what are your strategies to put investments in new innovations?
Until now, ROHM's majority of sales revenues were from Japan based customers, but with the growth of overseas customers from China, Taiwan, Korea and expansion of emerging markets, lead us to development and strengthening sales activities.
More specifically, ROHM established sales companies in April 2011 in India and September 2011 in Brazil, and expanding sales offices in inland-China, and strengthen the technical support system in emerging countries as business continues to grow. We have always researching the state-of-the-art technology to meet the needs of overseas markets. In order to meet customer needs quickly, we would be planning to strategically locate our Design & development centers in future.
Also, as ROHM is promoting new technologies and advance materials with new processes, by releasing SiC power devices. We have made a lot of progress thanks to our in-house Si process technology and the introduction of Silicon Carbide material. Our SiC product's roadmap addresses mainly those new power applications which require high switching frequency, high voltage and high efficiency.
Silicon Carbide is a new generation technology in power electronics world and the device is more expensive than Silicon but the usage of SiC in the power application gives much more competitiveness at system cost level. It is an exciting challenge to demonstrate to our customers the benefit of Silicon Carbide.
We will continue with the aim of innovation, by various collaborations in future.


SiC Power Devices
ROHM, with strengths in Analog-IC, Sensors, and Power devices and with added diversification in system control technology by our group company LAPIS Semiconductor, we were able to meet needs of our customers in a wide range of technology. We believe that with diversification of high-performance electronic devices in future, customer needs will be also diversify, in future we will pursue with advantage for product offerings with Modular-technology, Total-solution's technical proposals that will be growing.
3. The market penetration of LEDs is still rather low. How are you going to drive down costs to get faster adoption of LEDs especially at the consumer level?
In future, as the demand grows for Energy-conservation and power-saving, that leads to growth in LED-lighting.
In overseas markets mainly Chip-LEDs, Driver-IC, discretes for Power-supply unit are provided, but we also started offering Total power-solutions for LED-lighting.
Driver-IC and LEDs, Power-supply unit are key devices that plays an important role in energy saving, and we consider to achieve further increase in efficiency and expect to reduce parts-count, that leads to reduction in total-cost.
For expansion into lighting market in India, we will consider in assessing market trends and needs continuously.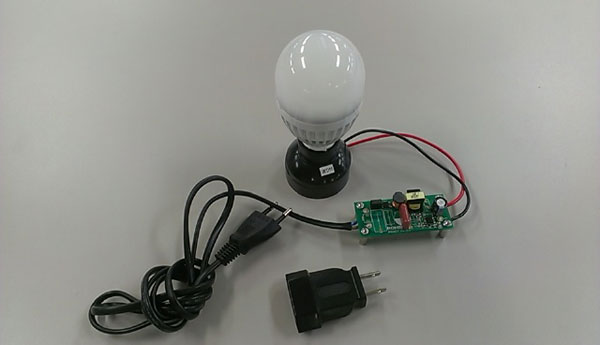 AC/DC LED-driver IC for lighting

Automotive LED-Driver ICs Tail and headlamp/DRL
4. If we talk about the innovation, ROHM is always ahead. Can you explain how are the innovations happening in the semiconductor technology and how does ROHM approach technology innovation and product development?
In ROHM, we are working on "More than Moore*"for many years, innovation in R&D is not only in miniaturization, but new materials, new application-areas, and new technology. One of it using new materials, like SiC for Power devices and, new application areas like the 'Blood analysis chip' using Nano bio-electronics.
In order to provide new solutions and in new fields, it is essential to always incorporate information, pursue flexible thinking, exploring cross-collaboration with many organizations, companies and countries. Therefore, we are also actively engaged in technology cooperation, including with companies and universities, and in many countries.
*"MORE THAN MOORE": Goes beyond Moore's Law, cultivating diversification and functional innovation by fusing different technologies and incorporating new materials.
5. What are some of the key changes in the industry that ROHM has witnessed over the past 12 months? How has the company changed to reflect this evolving marketplace?
Major market changes had taken place at home and abroad recently, and now markets in energy-conservation, Tablet-PC and Smart phone segment are rapidly growing. We believe depression in the consumer electronics market of Japan is severe than expected, on the other hand the importance of new application areas and overseas markets are growing more than ever.
We believe that ROHM's technology in leading the electronics market until now can be utilized for fast growing market segments including Automotive, medical devices, industrial FA equipment.
ROHM, based on quality and high technology that it has been accumulated over the years, has accelerated the Total-solution proposals as an integrated semiconductor manufacturer, specializing in particular to Analog and Power fields and, the Module proposal of the Sensors and Power ICs.
6. Which are the companies/distributors in tie-up with ROHM for providing solutions in the market?
In October2012, ROHM became the first promoter in Asia for "EnOcean Alliance" with the role of expanding the next generation wireless communication standards. The Alliance consists of more than 300 companies worldwide and companies from electrical and building areas. In the future, we will strengthen cooperation with member companies as the core members of the EnOcean Alliance, to advance the development and application of new technology in the wireless network field and energy harvesting, and we are working to expand into new markets like HEMS and BEMS.
In recent years, we are working on reference-business utilizing the strengths of One-stop supplier, from ICs to electronic components; we are working on collaboration in areas such as tablet-PC and automotive fields with IntelCorporation. In addition, in the industrial equipment sector, we are promoting the co-developed Power-module for Xilinx-FPGA, in collaboration with AVNET Inc., a world's leading distributor.
In India, we are introducing new devices and selling products directly and also through distributors to our end customers. Currently there are 10 distributors in India, and we are expanding our business through distributor's customer network. Automotive and Industrial segment are our focus markets in India, and we are also looking for other market segments in future.
With the newly established sales office in Bangalore this July, and we would like to consider further strengthening in future by identifying the market needs.
7. How do you act on customer enquiries? What type of enquiries you are generally receiving from customers?
ROHM places great importance on accurately assessing customer needs and promptly providing products that meet their requirements. We receive customer inquiries and our technical marketing personnel provide the right-solutions by recommending the products to suit the requirements. We also have a feedback system in place, to share the market needs directly to our engineers in Design & development centers, to align our products and technologies timely in-line with the specific needs.
8. What is the road map that is envisaged for ROHM growth in terms of market focus, development centers and employees?
ROHM is pursuing the "Next 50" years, and with the road map related to market focus are:
(1) Strengthen sales to overseas-customers:
Traditionally, sales to Japan based customers had accounted for the majority, but with growth of overseas customers in China, Taiwan, Korea, and the expansion of emerging markets, we are promoting the development of overseas-based customers, and strengthen our sales activities. In the fiscal year ending March 31, 2013, sales-ratio of overseas customers is about 35%, and we believe to increase it to more than 40% as soon as possible, and want to exceed 50% in the future.
To meet the needs of our overseas-customers, promote the establishment of framework such as development of products, sales, technical support, we aim to increase the market share and sales in overseas markets.
(2) Strengthening Automotive, and Industrial equipment markets
Increasing electronics market, including Automotive segment and Industrial equipment segment, which continues a steady growth is the market that requires ROHM's products of high quality, high reliability, and stable supply. ROHM has cultivated so far, and will continue to focus on Automotive, FA equipment, and medical devices with quality and reliability.
In addition, the consumers traditionally from the AV-business of Japanese consumer electronics manufacturers are important customers for ROHM, even as we shift focus to automobile and industrial equipment market, we will continue with the highest quality support as before. We believe that the sales goal, from the industrial equipment and automotive related sectors targeted at 40% of the total sales.
ROHM Demos
Automotive Solution
ROHM Semiconductor has highly-integrated LED driver solutions for automotive interior and exterior Tail-lamp/DRL applications.
LED Lighting Solution
Industry's leading efficiency LED-Lighting products at 140 lum/W, with Top market-share in Japan for LED Tube-lights, and also available various solutions for lighting such Driver ICs, Power modules, etc.,
Industrial Solution
Silicon Carbide (SiC) power devices (SBD, MOSFET, Modules) for Smart-inverter and power conversion applications.
RF Sub-GHz communication LSI for Smart Energy meter LAPIS Semiconductor, a subsidiary of ROHM Group, wireless communication LSI "ML7396? best suited for Smart Energy-meters for specified low power radio station.