SANTA CLARA, CA ― September 2014 ― Rocket EMS Inc., a Silicon Valley-based full-service EMS supplier, today announced that it has installed three new cleaning systems from Aqua Klean Systems. Rocket EMS installed a Typhoon T-8 Chemistry Zero-Discharge Cleaner, T15 Water Soluble Cleaner and DI Recirculating System.
"At Rocket we promise our customers extraordinary quality, spectacular customer service and a sense of urgency in everything we do," commented Craig Arcuri, CEO of Rocket EMS. "To help Rocket fulfill those commitments, we need the support of like-minded vendors. I am pleased to say that the Typhoon series has met and exceeded our expectations in all three categories."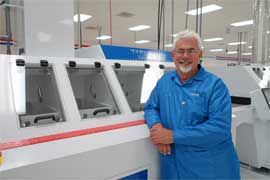 The Typhoon T-8 offers Rocket EMS a new way to clean RMA, no-clean and water soluble (OA) fluxes. The T-8 incorporates an adjustable chemical injection pump to assist in keeping chemical wash concentration consistent. The T-8 also incorporates a dynamic air blow-off design, allowing a water-free chemical isolation.
Rocket EMS also installed the Typhoon T15 – the cleaner of choice for many electronics manufacturing facilities. At 15′ long, it has more horsepower than other cleaners for its size. Equipped with 10 HP wash and rinse pumps, and two 15 HP turbine blowers, the Typhoon T15's performance is unmatched. As with all Typhoon cleaners, the T15 comes with standard features, such as a 24″ wide belt, the industry's safest smart heater, quick adjustable pressure valves, easy-to-access front valves and a slick touchscreen software interface.
Rocket's new DI Recirculating System from Aqua Klean Systems comes standard with a 0-18 Meg-ohm resistivity meter for monitoring the DI water quality. A low resistivity alarm alerts operators when DI quality is low. Additional features include an automatic pressure relief bypass system, automatic level controls, and easy-to-use operation panel with indicator lights and switches.
Only the highest quality filters, pumps, valves and electrical components are assembled into Aqua Klean Systems' units. For more information about any of Aqua Klean Systems' advanced cleaning systems or services, visit www.aquaklean.com.