With these mini-automatons making their rounds, you don't have to lift a finger to clean your home
 ROBOTIC technology for cleaning is not new. For some years now, we have seen the entry of home-friendly automatons to minimize effort in daily chores. What's different now is that robot cleaners have become more compact with more features.These robots have various cleaning patterns (instead of just back and forth), are equipped with sensors, able to map out a room and remember where they have cleaned, clean for longer hours and are able to find themselves back to home base to recharge when their batteries run low. You can even programme some of these robots to work to a schedule or when you are away from home.
Flying Mini Robot Cleaners
While this one is not yet in production, the idea of hundreds of flying mini-robots cleaning a home like a swarm of bees sounds interesting. Especially when you can sit back, relax and watch magic in action.The concept, called "Mab", which won the 11th Electrolux Design Lab competition recently, was designed by Colombian Adrian Perez Zapata.The automated system consists of 908 tiny flying robots that clean surfaces by touching them with a drop of water. Mab scans the house, determines the areas to clean and sends the robots flying. Each of the mini-robots would be powered by solar technology, while they are cleaning and deodorising.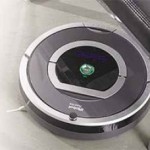 iRobot Roomba 780
The Roomba cleans carpets, tiles, and hardwood and linoleum floors with a three-stage patented cleaning process. It automatically adjusts to different floor surfaces as it moves around the house. Among others, the Roomba 780 can pick up pet hair, dirt, dust and allergens, and has a powerful vacuum to pull dirt or hair stuck to a surface. It also can capture dust particles as fine as 0.3 microns, limiting the re-circulation of fine particles.The circular-design Roomba can clean under the bed and other hard- to-reach areas. It has a touchpad control to schedule cleaning, spot clean, set the clock or dock the device.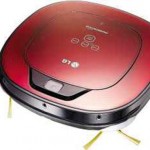 LG Hom-Bot Square
This square-shaped cleaner with its long side brushes is said to reach corners, wall edges and small areas more effectively than traditional round-shaped robot vacuum cleaners. The Hom-Bot has cameras mounted on the top and bottom, enabling it to map the area as it cleans, calculating optimal cleaning paths 50 times each second to make sure it doesn't miss a spot.The top camera takes as many as 30 images every second while the optical sensor on the bottom reads the surface up to 2,000 times per second for mapping and location purposes. It also has various cleaning modes that automatically adjust to floor and carpet surfaces.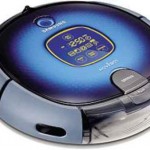 Samsung NaviBot Robotic Cleaner
The NaviBot features an onboard camera that captures 30 frames per second and documents a layout for the best cleaning path. The robot can also pick up where it left off should it return to its docking station for a quick recharge.The robot handles four cleaning modes, which can give up to 90 minutes of cleaning time. The auto mode enables the robot to handle everything, spot mode lets it focus on a small area, max mode will allow it to clean until the battery is drained and manual mode will let you control it with a remote.If you have pets in the house, the Navibot is designed to tackle pet hair with a power brush and rotating side brushes. It has a washable filter that traps fine particles that causes allergy and asthma.