Chasing a speed of sealing 1Lac tetra packs per hour, A laser based neuro surgery, A military war in highly sensitive areas, planetary exploration in volcanic prone mountain, space mission on a unknown planet or all your electronic appliances controlled in your absence as per pre-programmed commands or instructions over a private LAN. These applications are seems to be impossible by a human, and the answer is Robots & Robotics Products. The electronics with mechanical appearance, artificial intelligence & friendly nature to human called Robotics with better performance & capabilities of doing some of the impossible tasks for human; at our doorsteps is no more a fiction of far-off future.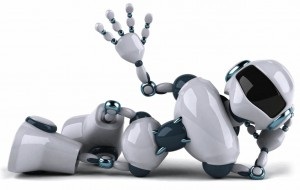 Robotics is the branch of technology that deals with the design, construction, operation, and application of robots, as well as computer systems for their control, sensory feedback, and information processing. These technologies deal with automated machines that can take the place of humans in dangerous environments or manufacturing processes, or resemble humans in appearance, behavior, and/or cognition. Many of today's robots are inspired by nature contributing to the field of bio-inspired robotics. The concept of creating machines that can operate autonomously dates back to classical times, but research into the functionality and potential uses of robots did not grow substantially until the 20th century.[2] Throughout history, robotics has been often seen to mimic human behavior, and often manage tasks in a similar fashion. Today, robotics is a rapidly growing field, as technological advances continue, research, design, and building new robots serve various practical purposes, whether domestically, commercially, or militarily. Many robots do jobs that are hazardous to people such as defusing bombs, mines and exploring shipwrecks.
Many early robots were big machines, with significant brawn and little else. Old hydraulically powered robots were relegated to tasks in the 3-D category – dull, dirty and dangerous. The technological advances since the first industry implementation have completely revised the capability, performance and strategic benefits of robots. For example, by the 1980s robots transitioned from being hydraulically powered to become electrically driven units. Accuracy and performance improved.
Cooperation between Robot and Human
ü  The way people and robots interact has strongly impacted new software and safety systems
ü  Traditionally safety guards kept robots away from humans to avoid injuries during fast paced robot applications
ü  However this process slowed down productivity. Therefore as a replacement, software based safety systems can alter the robot's speed and direct it to a safe position
ü  Safe speed core technology is a new invention which ensures robots allow people to share the same workspace with lesser risk
Case Studies of Robotics in Real Life
ABB helps Volvo Cars create a greener vehicle interior
ABB, the world's leading supplier of power and automation technologies, has provided an integrated application solution featuring spraying, gluing and wiping for Volvo Car Group's new production base in Chengdu, China; becoming the first robot supplier to provide a water-soluble adhesive system solution in the Chinese market. 

Automotive coatings in China – fully automatic and efficient
The economy, and especially the automotive market, has for many years been growing much faster in China than in other regions of the world. Accordingly, there are numerous new auto plants being built and equipped with the latest manufacturing technologies. In the field of coatings this means the use of new, more compact coating processes, full automation, energy efficiency and resource conservation. The paint shop with the lowest energy consumption per painted body will begin operation next year in China.

Compact energy saver robot provides high speed spot welder option
Continuing its drive for more compact and faster solutions for automated processes, FANUC Robotics has launched a new 'lower energy consumption' 100Kg robot.  The FANUC Robotics R-1000iA/100F is designed for high speed handling and in particular for spot welding.

Adept Technology Furthers Commitment to Sustainable and Green Production
Adept Quattro(TM) s650HS Robot provides significant energy savings and sustainable manufacturing practices for critical production processes. Adept developed energy conscious solutions such as the Adept Quattro robot for production systems ranging from safely processing food to reducing the costs associated with manufacturing solar cells. Recent benchmark tests validate that the Adept Quattro, which was originally designed with energy conservation in mind, consumes up to 35% less power over delta or SCARA robots.
Consumer Robotics – Robots for household applications.
Consumer robotics is now a $1.6 billion industry, with task-oriented robots accounting for roughly half of that, according to ABI Research. Analysts say sales could triple to $6.5 billion by 2017. A new generation of robots may be building more consumer interest. There are robots to wash windows, scour patio grills, scrub floors and mow the lawn. One cleans pools and another, aptly named RoboSnail, moves over the glass or acrylic surfaces of aquariums, polishing as it goes. Some of the consumer Robots available with us commercially are:
Ozobot–
A gamming robot that follows lines, reacts to colors, changes speeds, makes decisions and communicates with you. Features include intelligent code recognition, multiple speeds, LED Feedback, Precise line sensing & more. The intelligent robot recognizes over 1000 different digital codes, and is capable of reading different line and light colors on game boards, paper and digital smartphone and tablet screens using a small optic sensor.  Players can create their own game or download one of four Ozobot gaming apps available on iOS and Android devices.
Ekso by Ekso Bionics –
Ekso™ is a wearable bionic suit which enables individuals with any amount of lower extremity weakness to stand up and walk over ground with a natural, full weight bearing, and reciprocal gait. Walking is achieved by the user's weight shifts to activate sensors in the device which initiate steps. Battery-powered motors drive the legs, replacing deficient neuromuscular function.
Provides a means for people with as much as complete paralysis, and minimal forearm strength, to stand and walk
Helps patients re-learn proper step patterns and weight shifts using a functional based platform
Facilitates intensive step dosage over ground
Budgee by Five Elements Robotics
A standalone robot from 5e Robotics. Budgee carries your luggage, books, groceries, and other belongings and follows you wherever you go. Users wear a small transmitter which Budgee then follows within a constant range.  Budgee can carry up to 50 pounds and is equipped with bump sensors bring it to a stop in case it hits an object. Users can also control the robot using a smartphone or tablet.   Five Elements is currently conducting pilot studies to finalize the design.
SoloShot2 by SoloShot –
Soloshot released SoloShot2, its second generation robot cameraman device that tracks and films subjects up to 2000 feet away.  SOLOSHOT2 automatically pans, tilts, and zooms to keep your camera pointed at you, from a distance, with NO camera operator. Simply set up your SOLOSHOT tripod, attach your camera and film all your outdoor exploits. Users can also link multiple SOLOSHOT2s together to to get multiple angles and track multiple transmitters simultaneously.
Paro – The medical Seal
PARO is an advanced interactive robot developed by AIST, a leading Japanese industrial automation pioneer. It allows the documented benefits of animal therapy to be administered to patients in environments such as hospitals and extended care facilities where live animals present treatment or logistical difficulties. Paro is the 8th generation of a design that has been in use in Japan and throughout Europe since 2003.
Paro has been found to reduce patient stress and their caregivers
Paro stimulates interaction between patients and caregivers
Paro has been shown to have a Psychological effect on patients, improving thier relaxation and motivation
Paro improves the socialization of patients with each other and with caregivers
World's Most Therapeutic Robot certified by Guinness World Records
Knightscope K5 Autonomous Data Machine – Predict and Prevent Crime in Your  Community
The Knightscope K5 Autonomous Data Machine utilizes a combination of autonomous robots and predictive analytics to provide a commanding but friendly physical presence while gathering important real-time on-site data with numerous sensors. Data collected through these sensors is processed through our predictive analytics engine, combined with existing business, government and crowd-sourced social data sets, and subsequently assigned an alert level that determines when the community and the authorities should be notified of a concern. If an alert is pushed, the K5 machine will turn on all of its sensors to allow the entire community to review everything and also contribute important real-time information.
Industrial Robotics –
Industrial robot as defined by ISO 8373, An automatically controlled, reprogrammable, multipurpose manipulator programmable in three or more axes, which may be either fixed in place or mobile for use in industrial automation applications. Reprogrammable: who's programmed motions or auxiliary functions may be changed without physical alterations, Multipurpose: capable of being adapted to a different application with physical alterations, Physical alterations: alteration of the mechanical structure or control system except for changes of programming cassettes, ROMs, etc. Axis: direction used to specify the robot motion in a linear or rotary mode.
Solar Panels using Robots for Cleaning and Installations.
Despite the long-term cost savings of solar energy over traditional fossil fuels, many commercial customers are turned off by the steep initial cost of integrating a rooftop solar array system. Alion Energy, a clean energy company based in Richmond, California, is looking to fix that problem by using robots to do much of the installation and cleaning of solar panels, helping to reduce labor expenses by as much as 75%. The company developed a robot called Rover that actually lifts and positions 45-lb. solar panels into place. Workers then fasten the solar panels to the mounting bracket. Rover glides along a concrete track as it positions each solar panel into place. The innovative process saves time and labor expenses. These are savings that could be directly passed onto customers
Vero-B, automated prefabricated brick wall production line by Ploegsteert Brickworks
Verbo-B is a a new, ultra-modern production unit built for social housing programmes, nursing homes, care centres, housing estates and apartments. The line has a production capacity of 250,000m²/year and can produce wall variants from 10mm-40mm thickness, lengths up to 9.5m and heights up to 3.75m. Developed and built by ceramics sector specialists Ceratec, the new production line has two units – a surface mounting process for wall build and a cutting unit for completing walls to size and position doors and window openings to customer requirements. Individual blocks are initially sized on a grinding table to ensure each layer is the same height – this process ensures a strong bond between layers using a thin layer of adhesive.  Pallets of bricks are unpacked by a robot and transferred to the grinding machine on a conveyor belt. After grinding the stones are stacked again on a pallet by a second robot.
High speed machining robots from Staubli Robotics.
Stäubli Robotics recently developed a flexible solution for handling various machining operations with a dedicated robot: the RX170 hsm. The RX170 hsm is designed for a number of high speed machining applications: finishing, die trimming, modeling, drilling, tapping, deburring, contouring, weld bead machining and more on many types of materials, including aluminum, stainless steel, composites, resins, wood, glass and brass. A lot of professional expertise has gone into the making of this robot. The entire power supply as well as the spindle cooling and lubrication are contained within the arm. This represents a compact and highly reliable solution.
Wrist with specific casting
Enclosed cables
1 835 mm reach
Enclosed structure
Pressurizable arm
Ability to quickly replace the high speed spindle head
High speed spindle management interface integrated into the robot controller
Ability to upload CAD files
ABB's next generation robotic Cartridge Bell Paint System speedy and efficient
The only fully integrated robotic solution for internal charge water-borne painting, with up to 50% time savings during color change. Made from cast and machined aluminum, this latest innovation, the Compact CBS II, is the only fully-integrated robotic solution for internal charge water-borne painting. The lighter, faster and more efficient design is more closely integrated with the system's components and reduces color exchange time as much as 50 percent when compared with other solutions. Able to complete the color change cycle in tandem with the painting process, the Compact CBS II is fully integrated with the robot controller. Other improvements include the addition of servo motors and drive units to the run train circuit for precise angular positioning and process control. These new drives can easily be integrated into existing installations. The Compact CBS II also has been outfitted with dual DCUs for precession filling and dosing of paint material from the paint cartridge. The second DCU eliminates the need for flow meter.
Mobile robots support airplane manufacturers – KUKA OMNIROB
Driven by the vision of robots that can move fully autonomously and help humans with their work, KUKA developers have transformed the lightweight robot into the KUKA omniRob by mounting it on an omnidirectional mobile platform. The technology demonstrator does not need ready-made maps or measuring devices, nor does it require constructional changes in its environment. KUKA omniRob orientates itself by means of the SLAM method (Simultaneous Localization and Mapping), which allows it to create maps and determine its position within them. At the same time, the robot also ensures that it doesn't collide with any obstacles.
Medical Robots – Precision surgeons
Operating on the human body requires high skill but also great control, something robots can provide. The idea of robotic surgery prompted early fears of unsupervised robots let loose to operate, but the reality is that robots now assist surgeons to perform precision procedures. Tiny, wireless and robotic camera-capsules have been used diagnostically, by allowing them to pass through a patient's digestive system. Others have been designed to move about by remote control in the abdominal cavity, beaming images back to the surgeon, or even taking biopsy samples. Robot hands have even been developed to scan for breast cancer. Such life-saving robots have proved so successful that dentists are considering using robotic dental drill to make implant dental surgery cheaper, quicker and, crucially, less painful.
Small Robot Surgeon to Work Inside Astronauts' Bodies by Virtual Incision Corporation
Surgery in space would be extremely difficult. Without gravity, it is easy for bodily fluids like blood to float free and contaminate the cabin. And space capsules can only carry a certain amount of weight, so medical tools need to be relatively light but capable of handling many kinds of situations. Remote-operated technologies would have a disadvantage in space, because the further away a spaceship gets, the greater the time delay in communications signals. Virtual Incision hopes to avoid this problem by training astronauts to perform procedures on each other. The fist-sized robot, a product of Virtual Incision in Lincoln, Nebraska, will have its first zero-gravity test – in an aircraft flying in parabolic arcs – in the next few months. While aloft, the surgery bot will perform a set of exercises to demonstrate its dexterity, such as manipulating rubber bands and other inanimate objects. The hope is that such robots will accompany future astronauts on long deep-space missions, when the chances are higher that someone will experience physical trauma.
Key hole surgery from da Vinci Xi System by Intuitive Surgical Inc.
The da Vinci Xi System is the fourth version of Intuitive's surgical robot, which is operated by surgeons from a  computer console to perform minimally invasive procedures like prostate surgery. The new robot includes overhead surgical arms that make it possible to reach all parts of patients' anatomy without repositioning the machine during surgery. The da Vinci S HD Surgical System integrates 3D HD endoscopy and state-of-the-art robotic technology to virtually extend the surgeon's eyes and hands into the surgical field. Only the da Vinci System enables new, minimally invasive options for complex surgical procedures.
Humanoid – Robots More Like Us
A humanoid robot is a robot with its body shape built to resemble that of the human body. A humanoid design might be for functional purposes, such as interacting with human tools and environments, for experimental purposes, such as the study of bipedal locomotion, or for other purposes
NAO created by Aldebaran Inc.
NAO is a 58-cm tall humanoid robot. It's small, cute and round. NAO is intended to be a friendly companion around the house. It moves, recognizes you, hears you, and even talks to you! Aldebaran created NAO to be a true daily companion: NAO is the little artificial creature who helps you be your best. Its humanoid form and extreme interactivity make it endearing and lovable. Ask NAO to do something and it does! For example, ask it to teach multiplication tables to your children, wake you up in the morning, monitor your home during the day, or teach you new things whenever you want. Pretty amazing for a machine… but there's another big difference that changes everything: you no longer need a keyboard, computer or mouse to communicate with technology. All you have to do is talk to it, and it responds!
Shipboard Autonomous Firefighting Robot (SAFFiR) – Fire Fighting robot by US Navy
The robots already have some autonomy and can make decisions about taking steps and moving their joints. A human, however, will still supervise the robot; control the humanoid from a safe distance and decide on whether the robot is ready for its next task. The Navy will test two different versions of the SAFFIR. One is a 5-foot-tall humanoid with a basic set of legs and a simple control mechanism. The other is a 6-foot-tall humanoid with more advanced legs that should be capable of better movement. They will be expected to perform a number of different tasks – turning valves, picking up and dragging a fire hose and jetting water on the fire. The bot is also designed to learn a ship's layout, move around autonomously below deck and even packs built-in sensors allow it to see through thick smoke. The SAFFiR robots would also be able to function in much higher temperatures than existing humanoid robotic experiments.