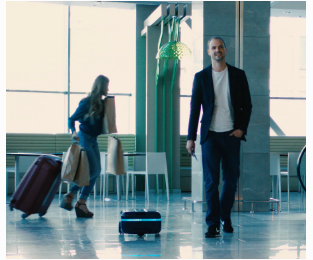 It's easy to smirk at the idea of a robotic suitcase following someone around an airport. Putting the cynicism aside for a moment, though, consider a traveler with a broken leg trying to navigate an airport on crutches or suffering from sciatica, arthritis, or just about any injury or disease that causes mobility issues. From this perspective, a robotic suitcase looks a bit more like a necessity than an indulgence.
Global Market Insights reports that the smart luggage market will exceed $2B by 2024, and companies like Travelmate Robotics™, ForwardX Robotics, and 90Fun are banking on the fact that the consumer market is ready for and wants a self-driving suitcase. Emerging robotic-luggage styles feature a range of capabilities beyond just following you as you navigate the airport to your terminal. These bags can also weigh themselves, charge your mobile devices, and tell you where they are if you lose them. It seems the only thing they can't do is jump into an overhead luggage compartment.
A variety of technologies enable the suitcase to follow its owner and not cause safety hazards as it moves through a busy airport. ForwardX's Ovis uses vision technology to lock its vision on and follow its owner. Advanced radio frequency (RF) technology and an embedded, ultrasonic sensor sense an environment, calculate distance, and estimate directional adjustments to avoid obstacles with a deviation precision of plus or minus one centimeter—meaning your luggage won't run into a pillar, which is more than we can say for its owner who's probably looking down at their phone to see if their flight is on time.
Speaking of phones, the team at Travelmate decided to use a smartphone as the tether point for the suitcase to follow. Maximillian Kovtun, president of Travelmate, said technology like light detection and ranging (LIDAR) and video tracking is available, but they would drive up costs (and who's going to buy a $20,000 suitcase?). To keep the price point down, Travelmate developed its own technology.
Using a smartphone as a tracker is a smart move because it's a device that everyone carries; it's easy to use; and it makes suitcase software updates easy. It also provides a more reliable connection using Bluetooth® technology rather than video tracking. With video tracking, your luggage can lock its vision on your image to follow you, but if someone passes between you and your luggage, it could decide to follow them instead. By connecting to a specific device, you will never have that problem.
90Fun's Puppy 1 tethers to a device as well, but this device is a remote control unit (RCU) that uses an ultra-wide band connection. The remote seems simple to use, but it's another thing to lose. Although—you could switch roles and follow your Puppy 1 as it sniffs for the missing remote as though it were scenting a rat at a barn hunt competition.
Airline Compliance
With an ever-growing list of things that you can and cannot take on airplanes, you might wonder how the airlines feel about robotic luggage. Kovtun said that part was easy. The International Air Transport Association (IATA), which helps formulate industry policy on critical aviation issues, has provided the appropriate standards and guidelines to comply with to enable a robotic suitcase to board an airplane.
For example, the battery on the Travelmate is under the allowed 100-watt hours and is easily removable if you decide to check your luggage. As a bonus, if it's with you, you can use it to charge your other devices.
This covers power storage, but what about the power supply? Startup companies are loath to give up all their secrets, but you would likely find regulators such as Analog Devices' ADM717x 6.5V CMOS LDOs or the ADP166 LDO Regulators inside the guts of a robotic luggage. These types of regulators are ideal for portable and battery-powered equipment, noise-sensitive applications, and Wireless Sensor Network (WSN) devices.
Weight issues are a big hurdle for any suitcase designer. Airlines are cracking down on how much stuff you can bring with you when you travel and will tack on a $100 fee or more if your bag weighs too much. Consumers are not going to want a bag that weighs a lot before it's even packed.
Kovtun said his company was able to get the weight down on their cases to three, four, and five kilograms by minimizing the printed circuit boards (PCB), electronics, and metal components, and even picking the right plastic for the luggage. Other challenges include weight distribution and the elimination of static that could cause havoc among the electronics.
Aside from the Roomba®, you don't see a lot of robots that provide a practical service to consumers. Will the robotic suitcase become as familiar as our autonomous vacuums?
"That's what we want to do…take robotics and make it mainstream," said Kovtun.
By Mouser Electronics