By Mr. Sanjay Jain, Analog Applications Manager,  Mr. Frangline Jose, Manager – DSP & HPC Systems, Texas Instruments India
In the future, when you enter your car, expect a big shift in the way your car's dashboard user-interface system interacts with you. With the growing demand to provide an immersive user experience along with an immediate need to make driving safer and more secure, the next generation of Vehicle Dashboard electronics would necessitate merging of existing and upcoming features to offer a rich end-user experience. This is fueling the evolution of a new, advanced automobile cockpit, which is the area surrounding the driver that includes the Driver Information Systems in this section of the vehicle.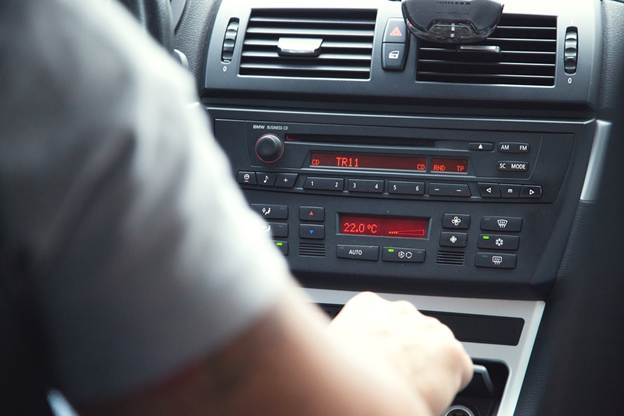 The automobile cockpit is fast transforming from an analog-only domain to a fully digital cockpit and is in fact increasingly referred to as 'eCockpit'. The eCockpit comes loaded with features that deliver greater integration along with critical and highly useful benefits. These features are aided with the advancement in technology and availability of highly integrated microprocessors, displays, sensors, and relevant software.
This includes controls, cluster, Infotainment system, Navigation, eCall System, HVAC and head up display (HUD).
Cockpit Domain controller may also integrate features like Gesture & Voice Recognition and Info ADAS (Advanced Driver Assist System) functions with further evolution.
As vehicle dashboards are crowded with ever more digital Electronic Control Units or ECUs, the electronics holding it all together has become a chaotic nest of components made by different part makers.
Moreover, the complexity to develop ten different ECUs, from ten different Tier 1 suppliers is no longer something an Automotive OEM wants to do. Estimates indicate that manufacturers eventually will work with two to three cockpit suppliers for each model, down from six to ten today, indicating the conscious shift towards a Domain controller ECU.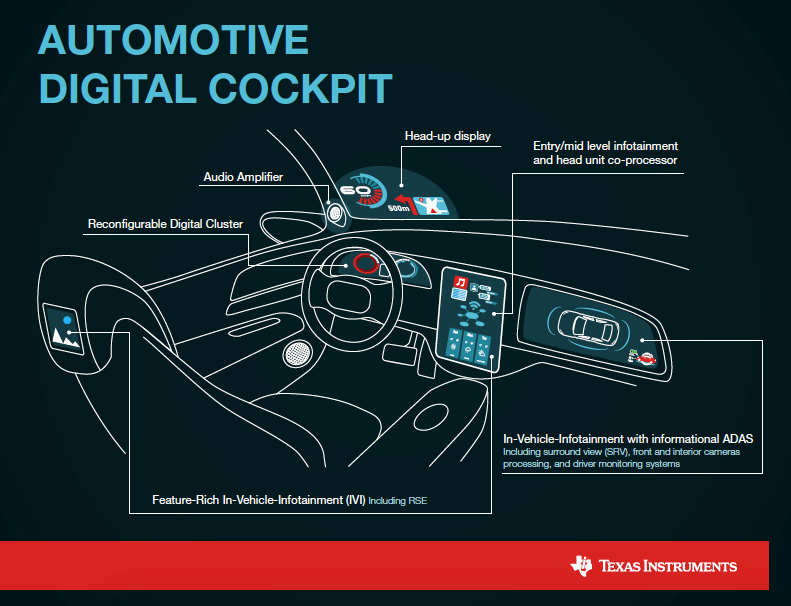 The instrument cluster with a digital display provides the advantage of configurability. A reconfigurable digital cluster gives an end-user the freedom to configure the information displayed in the cluster to his or her tastes and needs. 3D display of cluster information with embedded
GPU-based instrument rendering provides a rich end-user experience. With reconfigurability, different drivers can have different instrument views configured providing a personalized view.
In-car infotainment system with high resolution displays can provide rich applications for navigation, radio, audio, video and even video games. With Wi-Fi and or LTE connectivity options integrated to the eCockpit, radio, video-on demand or a wide choice of media from the cloud is made available. Wi-Fi connectivity enables screen mirroring of supported handheld devices to the Infotainment display. Rear seat entertainment in some designs is enabled from the infotainment system providing multi display, multi content support for all occupants in a vehicle.
HUD with navigation and Augmented reality (AR) is another emerging area. HUD can be in addition to the infotainment system or can split some of the features of the infotainment system like navigation and incoming call information (telephony) to the HUD, making driving a less distracting task.
With deep learning based algorithms available in the cockpit, today natural voice processing and command and control of an automobile is no longer a fiction. Artificial Intelligence (AI) based driver identification is a technology that already exists today and can enable automatic configuration of the cockpit and the automobile based on user's taste.
ADAS is another area which will see increased adoption in future automobiles. Reverse parking assistance provided via rearview camera (RVC) and distance information from sensors are widely being used today.
Surround view (SRV) or 360 degree view will provide a bird's eye view of the automobile's surroundings, thus aiding in parking the automobile or driving through narrow lanes or tightspots. Rear view mirrors getting replaced by digital cameras and a stitched seamless display allow drivers to scan the entire rear of the automobile in a single glance. Machine learning/AI based lane detection and departure warnings, pedestrian detection, identification of the type of traffic in front and identification of traffic signals are some of the ADAS features which are being developed and deployed.
Forward collision warning, driver monitoring and autonomous emergency breaking has the potential to increase safety and is expected to go mainstream.
With the availability of highly integrated devices like the single chip 77GHz radar device
AWR1443 from Texas Instruments, Gesture Recognition is easily integrated in the cockpit. These radar devices are also used in occupancy sensing and driver monitoring. Also complementing this technology is TI's 3D ToF (Time of Flight) solutions which enables a slew of Gesture Recognition (GR) solutions based on Fine to coarse GR as per the implementation need. It utilizes mapping of 3D Point cloud information for the ECU to understand Human Finger gestures and interpret different functions like Map Zoom, Temperature control, Audio controls to swiping among different Displays in
Reconfigurable Displays. One may look at OPT8320 3D ToF chipset to further understand the solution this technology offers.
With wireless Connectivity options of GPS, Bluetooth, Wi-Fi, LTE, cloud-based services can be envisaged to enable a connected vehicle on the go. To drive down the cost, and increase the features, it is an expectation to have high integration of processing cores, interfaces and hardware accelerators while maintaining ease of programming and lower power.
So which single technology will deliver this kind of a multi cross functional Cockpit Domain Controller ECU? :
Texas Instruments J6 and J6 Plus platforms with its heterogeneous architecture, dedicated processing cores for image, signal and vision processing brings the possibility of designing a safe and secure automobile cockpit in a single chip. J6 and J6 plus platform devices are designed to meet automotive quality and reliability standards like AECQ100, ISO 26262, ASIL-B, etc. while adhering to a rigid budget. Multiple display capability of these devices allows Cluster, Infotainment and HUD displays driven from the same chip. Hypervisor and multi-OS capabilities allow multiple virtual machines and sharing of the processing units, graphics processor unit (GPU) and hardware resources in the device.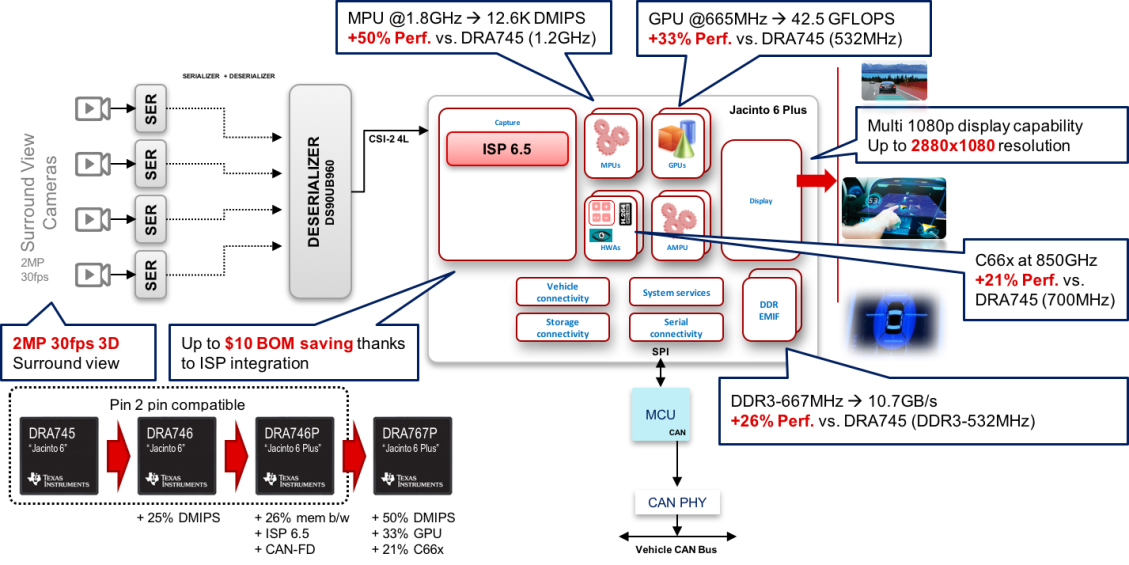 Also, this need to drive multiple displays and feed information from Sensor systems including Radars and Camera Imagers into a single Domain Controller ECU SoC is also being aided with a portfolio of Multichannel Serialiser and Deserialiser Hub devices based on Texas Instruments' secure FPD Link 3 protocol, providing a much needed simpler Interface and light-weight wiring harness between peripherals and Domain controller ECU. For instance, one may look at TI's latest devices like DS90UB960-Q1 to realize implementing In-Vehicle Data communication with a single STP/Coaxial cable carrying Captured Data to ECU, control Information from ECU and Battery Power feed to sensor module.
Achieving these diverse set of functions will require not just a boost in device performance, but redefined and adapted architectures to support the even more demanding integrated digital cockpit use cases. These requirements tie into TI's vision and strategy to drive the future of automotive digital cockpit SoCs.