Shortens Time Required for Certification of Wi-SUN FAN Devices by Approximately One Year
12 Mar 2020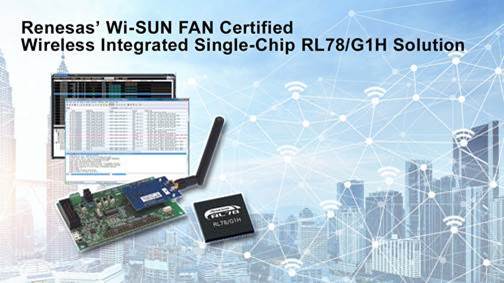 TOKYO, Japan ― Renesas Electronics Corporation (TSE:6723), a premier supplier of advanced semiconductor solutions, today announced that its RL78/G1H-based sub-gigahertz (sub-GHZ) wireless solution has received certification under the Wireless Smart Ubiquitous Network for Field Area Network profile (Wi-SUN FAN) which is one of the communication standards established by the Wi-SUN Alliance (Note 1). This is an addition to Renesas' existing high-end dual-chip solution comprising RX651 microcontroller (MCU) and RAA604S00 wireless communications IC, expanding the company's Wi-SUN FAN-compliant portfolio.
The newly certified solution comprises Tessera Technology Inc.'s TK-RLG1H+SB2 evaluation board (Note 2), which incorporates the Renesas 16-bit RL78/G1H MCU with integrated wireless functionality and a Wi-SUN FAN communication control software stack. The wireless solution enables customers to develop Wi-SUN FAN-compliant devices quickly and easily, reducing the time required for certification in the development process by approximately one year.
"Wireless frequencies in the sub-GHz band are relatively unaffected by obstacles such as walls and buildings, which makes it possible to transmit data over longer distances in urban settings, and Wi-SUN FAN is gaining popularity as a wide-area wireless network standard with mesh network support," said Toru Moriya, Vice President, Emerging Market Business Division at Renesas. "Our certified RL78-based wireless solution will alleviate the development burden associated with sensor network applications such as logistics and infrastructure management, and accelerate the widespread adoption of Wi-SUN FAN to realize smart cities and smart grids."
About the Renesas Wi-SUN FAN Portfolio
In addition to the newly certified RL78 wireless solution, Renesas offers a high-end, dual-chip solution combining the 32-bit RX651 MCU and the RAA604S00 wireless communications IC. This solution was Wi-SUN FAN certified in 2019.
Customers can develop products ranging from gateway applications such as border routers between FAN and wide area network (WAN) to terminal applications such as routers by choosing Renesas' solutions according to required specifications, such as MCU processing performance, memory capacity, or power efficiency.
By facilitating the implementation of FAN wide-area mesh networks, these solutions allow customers to develop new added-value products in a wide range of applications, including smart meter power usage visualization, smart illumination, sensor management in factories or office buildings, and equipment operation monitoring.
Availability
A communication control software for the Wi-SUN certified RL78/G1H solution will be available by September 2020.
For more details on the RL78/G1H Wi-SUN FAN Solution, visit:
https://www.renesas.com/products/software-tools/software-os-middleware-driver/protocol-stack/subghz-protocol-stack.html
Note 1: Wi-SUN Alliance, Inc. is an international industry group that specifies wireless communication standards used within the Sub-G band.
Note 2: This evaluation board is available from Tessera Technology, Inc.