Today RECOM Power, a global manufacturer of power supply products, is launching digital models for its entire product catalog in collaboration with SnapEDA, the biggest platform for electronic component discovery & design-in.

Symbols & footprints for RECOM's entire catalog are now available for free download via the RECOM and SnapEDA websites, helping engineers design electronics faster.
When designing electronics, engineers need digital models for each component on their circuit boards. Designing them is a time-consuming, repetitive, and error-prone process, which takes engineers away from what matters most – designing and innovating the most impactful products possible. With this new collaboration, engineers can now simply drag-and-drop models into their schematics and PCB layouts, so they can start designing and innovating instantly.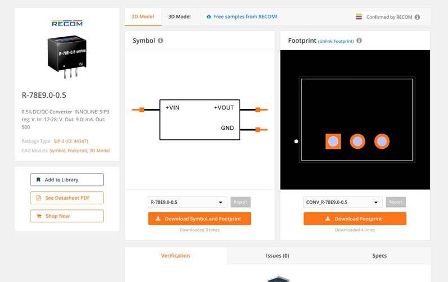 RECOM products in this release include compact & high-quality AC/DC power supplies, DC/DC converters, LED drivers and switching regulators. For example:
RAC05-K/480-5W – AC/DC converter, capable of 480VAC in a 1" x 2" package.
RPM – DC/DC SMD switching regulator, with a DOSA footprint and 99% efficiency rating.
RBB – DC/DC buck/boost compact switching regulator, with a 95% efficiency rating and 7µA standby power consumption.
REM1/REM2 – Internationally certified 1W-2W medical-grade DC/DC converters in SIP7 & SIP8 packages.

"We're excited to work with RECOM Power because our visions for simplifying and accelerating the development process for engineers are perfectly aligned. RECOM is doing this by simplifying the integration of power supplies, which are an essential part of most electronics products," said Natasha Baker, CEO & Founder of SnapEDA.

"SnapEDA provides an extensive digital component library for engineers involved in PCB design and we are grateful for the opportunity to join this extraordinary resource, as well as have it available on our own site. We are looking forward to this successful collaboration," said Christoph Wolf, President of RECOM Power Inc.

The symbols & footprints have been made using recommended land patterns provided by RECOM or IPC standards, where applicable. They are compatible with Altium, Autodesk Eagle, Cadence OrCAD & Allegro, KiCad, Mentor PADS & DXDesigner, and Proteus. Models made by SnapEDA have 99.9% accuracy and are verified with SnapEDA's patent-pending verification technology.

The models are available free on both the RECOM Power and SnapEDA websites.

About SnapEDA

SnapEDA believes in a world where engineers are free to innovate. We break down barriers so that they can spend more time on what matters most – improving our world with better products. As the largest electronics library, we provide millions of digital building blocks for circuit board design via our website & PCB design plugins. We shave weeks off product development, so that designers can focus on what matters most – designing the best products. Over 1 million engineers use SnapEDA each year, designing hundreds of thousands of unique products, from medical devices, to electric airplanes. SnapEDA is funded by Y Combinator and private investors. Learn more @ www.snapeda.com