Rashi the true value added distributor is pleased to introduce the latest line of ASUS ZenPad. The ASUS ZenPad™ Series brings harmony to the tablet experience with its graceful balance of elegant design, extraordinary visual enhancement technology, and cinematic audio. Featuring ASUS Visual Master and DTS-HD Premium Sound, ZenPad delivers incredible entertainment experiences to let you truly enjoy luxury on your terms. ZenPad 8.0, with 2 GB RAM that delivers extreme performance with ultimate style.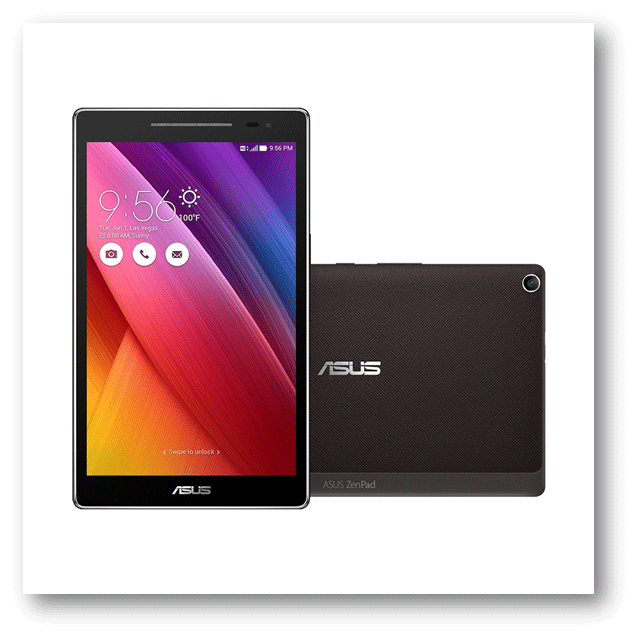 ZenPad 8.0 features clean lines, embossed-leather patterning, and premium styling influenced by fashion accessories such as clutch bags and wallets for a luxurious appearance unique among mobile devices. Ergonomic rounded edges make ZenPad 8.0 comfortable to hold and carry, and its polished metallic frame adds a bold visual accent. Complementing its stunning display, ZenPad is the world's first tablet to integrate DTS Premium Sound™ technology for incredible audio. The built-in DTS-HD coder-decoder (codec) provides high-fidelity sound from all types of multimedia content, and lets users play back or stream movies and music with up to 5.1 channels of DTS surround sound to a connected audio system. ZenPad also includes DTS Sound Studio™ to transform stereo audio into virtual surround-sound that users can enjoy either through Zen Pad's speakers or using headphones for immersive entertainment experiences at home or on the go.
ASUS ZenPad 8.0 8MP rear-facing camera takes astounding images, and the 2MP front-facing camera's 140 -degree wide-angle lens, shoots sharp selfies and clear video chats. With ASUS ZenPad 8.0 8MP, Pixel Master Camera on board it captures stunning, high-resolution photos with zero shutter lag. The industry-leading Low Light mode employs pixel-merging technology to capture up to 400% brighter photos at night or in low-light scenes, without the need for a flash.
ASUS ZenPad 8.0 is powered by Qualcomm 64-bit Octa Core Processor and has 2 GB RAM, so you can enjoy fast web surfing, smooth video playback, great gaming experiences, and multi-tasking that doesn't leave you waiting.
Rashi Peripherals is gearing up to distribute ZenPad 8.0 in Tamil Nadu, Kerala,Pondicherry, Mumbai, Nagpur, Raipur, and Guwathi, furthermore Ms. Reshma Pawar who currently serves as – Assistant Product Manager Asus Consumer Notebook and Desktop in Rashi Peripherals had this to add ; "We are very excited to introduce the much awaited ZenPad series yet, we are ecstatic and have made all the necessary logistical arrangements to introduce the latest offering by ASUS, premium design, coupled with tons of features, all make the a ZenPad series a promising bet in the industry."