Strambino, February 28th, — in collaboration with Smart Team, Seica will attend the productronica China 2021 with products that represent the highest level of technology applied to testing of electronic boards and components.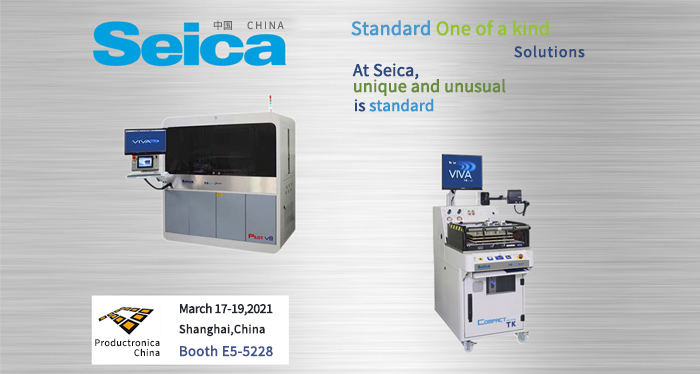 In booth E5/5228 Seica will showcase the Pilot V8 NEXT, which, with its innovative and powerful electrical testing performance, is undoubtedly the most complete flying probing test platform on the market.
The Flying Probe Tester Pilot V8 Next> series represents the latest frontier in flying probe test technology; it is the complete solution for those who want maximum performance: the highest test speed, low to medium volume, test coverage and flexibility, for prototyping, manufacturing, or repairing any type of board. Its vertical architecture is the optimum solution for probing both sides of the UUT simultaneously.
Flying Probe Tester Pilot V8 Next> series is suitable for:
Vectorless and in-circuit tests
Programming and functional tests
Boundary Scan test
Medium/high volumes with automatic loader
Highly-integrated prototypes
High-mixed products
Boards not designed for testing
Reverse Engineering and Repair
All Seica products are based on its unique hardware and software platform, called VIVA Next> Integrated Platform (VIP). The VIVA software offers a complete set of automated instruments to develop, execute and maintain in-circuit and functional test programs for analog, digital and hybrid boards; the VIP hardware includes integrated DSP technology, delivering fast, accurate comprehensive solutions which are extremely cost-effective.