Nominations are now being accepted for EM Best Awards 2019, India's biggest electronics industry award, which celebrates its 5th anniversary this year.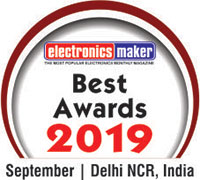 May 2019 – EM Best of Industry Awards is an award that honors companies for their leading performance, excellence and best contribution, their ideas and products that have an impact on future electronics industry, and it attracts competitors from across the world. It will be awarded on September 2019 in Delhi and organised by EM Media LLP – Publisher of Electronics Maker, India's leading electronics monthly magazine Registrations are now being accepted.
This year marks the 5th anniversary of the EM Best of Industry Awards. Category winners will be announced and celebrates with leading Business people & entrepreneurs. In the last four years,   this award has attracted many key electronics companies to become a part of this prestigious event.
The award is open to any individual, company and is awarded to the company or product that best performs and has contributed to a significant innovation.
All entries are assessed by an independent jury. Together they review each entry based on its level of innovation, creativity, sustainability, performance and competitiveness. Out of the box thinking as well as entries addressing the environment, digital solutions and new trends in the industry are especially encouraged.
You may enter your own organisation or nominate a third party. Individuals can nominate in as many categories as they want, and nominate multiple times in each category. This is a unique opportunity for you to showcase how your company is a leader.
To nominate, visit the link http://electronicsmaker.com/award/registration.php.
All applications must be received before the deadline of July 30th for consideration.
Sponsorship opportunities
If you wish to raise your profile by playing an important part in this major awards ceremony, we have an array of sponsorship opportunities available. Contact us for more details.
For nominations and sponsorship information, please contact:
Vaishali Umredkar, Executive Editor, EM Media LLP
Email: tech.correspondent@electronicsmaker.com / emawards19@gmail.com
Mobile: +91 9971819034 / 7678194285
Website: http://electronicsmaker.com/award
About EM Media
Electronics Maker published by EM Media LLP under the license of RNI, Ministry of Information & Broadcasting since 1996. This is the most popular electronics monthly magazine and portal uniquely design and publishes technical articles, market trends, news, reviews, interactions, case studies, application notes, product information, business and financial news, and a wide variety of other information relevant to the electronics industry.  At present it has readership in the range of over half million per month, which is growing at a very rapid rate of 10%- 20% per annum.
We are biggest electronic print media house and professional keeping the overhead cost to minimum and yet delivering better than other electronics magazine. For more details, visit: http://electronicsmaker.com/