SBC (www.scbispl.com) participates in Productronica India 2019 from 25th to 27th Sep 2019 at Greater Noida New Delhi, Hall 11, Booth EK05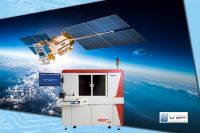 Strambino, Italy, September 2019 – Productronica India is being held at the at Greater Noida New Delhi from 25th to 27th September.  SBCs partner Seica, a leading provider of Flying Probe technology, will talk about the following equipment and techniques such as PCB & PCBA manufacturing, inspection and testing equipment:
Seica's Pilot V8 Next > series, the most complete flying probe test platform on the market, provides up to 20 mobile  resources for testing an electronic board, including test probes which can each apply currents up to 2 amps, high-resolution cameras for automatic optical inspection, barcode and data matrix reading capability, laser sensors, capacitive probes, pyrometers, optical fiber sensors for LEDs, mini-fixtures for boundary scan and On Board Programming, and high-frequency probes able to measure signals at frequencies over 1.5 GHz (an absolutely unique performance on the market).
Engineered for medium/high volume production, the Pilot V8 Next > series is available in a fully-automated version, capable of hosting from 1 to 12 magazines of boards to be tested (even of different types) or for direct connection to board loading/unloading and tilt modules, compatible with any standard assembly line. The Pilot V8 Next > series can be configured to satisfy the full range of different board test requirements: the HR (high resolution) version extends the performance to include probing of extremely miniaturized devices (down to 30 µm), while in the XL version expands the standard work area of 610 x 540 mm to 800 x 650 mm, able to accommodate and test "extra-large" boards.
Seica's Software VIVA NEXT, together with Seica's years of experience,  provides intelligent integration with all aspects of the customer's manufacturing processes: data collection, traceability, interaction with MES, repair operations. In short, it includes all of the core concepts of Industry 4.0.