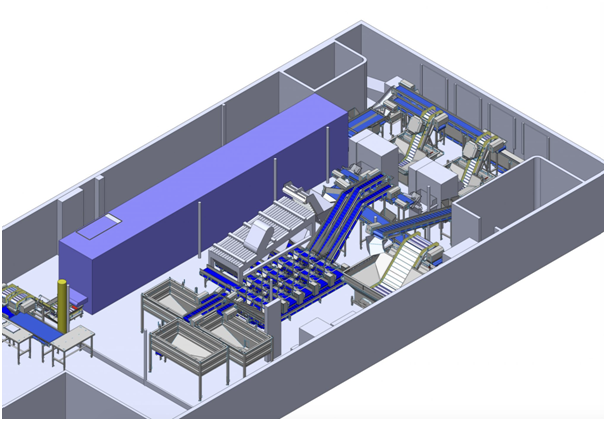 PERUZA is a Latvian company with over 30 years of experience in food processing and packaging machinery. PERUZA's core expertise was developed in the fish processing industry but has since evolved to encompass all aspects of food processing and packaging, focusing on reducing inefficiencies and bottlenecks via a combination of custom machinery, advanced robotics, and smart solutions.
Modular and Turnkey Solutions
PERUZA's catalog is full of examples of the company's unique approach to improving food production yields and lowering overall operational costs. PERUZA's machinery is either modular in nature, intended to form a part of a more extensive production line, or turnkey, enabling operators to install a single solution that can quickly and efficiently fulfill a very specific requirement.
Here are just a couple of examples of turnkey processing solutions from PERUZA's extensive catalog:
The PERUZA Shrimp Processing Line
PERUZA's shrimp processing equipment is a perfect example of their turnkey processing solutions. The shrimp processing line is a complete, self-contained system that can be installed on a trawler, enabling end-to-end net to frozen packaging of shrimp with no intervention from shoreside facilities.
Once caught in a trawler's nets and inspected for quality, PERUZA's shrimp processing equipment takes care of washing and rinsing the crustaceans before being graded and cooked.
Once freshly cooked and cooled, the shrimp are then IQF frozen for freshness before being boxed in specific weights and stored ready for delivery once the trawler has returned to port.
The Benefits of the PERUZA Shrimp Processing Line
By offering a complete turnkey solution to shrimp trawler operators, PERUZA helps ships spend more time at sea without the need to bring shrimp ashore to avoid spoilage.
In addition, because shrimp are frozen moments after being caught, freshness and quality are better maintained. Finally, as the entire end-to-end operation takes place aboard the trawler, fewer resources are expended compared to moving the raw and finished products between various processing facilities.
The PERUZA Robotic Packaging System for Flow Packs
Like PERUZA's shrimp processing line, the robotic packaging system for flowpacks is a turnkey solution for packing and preparing Flow Packs into boxes for transportation to retail facilities or end customers.
The robot packing system is highly efficient, processing up to 140 packages per minute. The system can be adapted to cater to various sizes of products and can handle glass and plastic and regular cartons and Flow Packs.
In operation, advanced robotics can pick, organize and pack a wide range of items based on a predefined pattern. The robots move and position even the most delicate items, packing them in vertical positions for further processing. Due to the custom nature of PERUZA's turnkey solutions, this robot packaging system can be custom adapted for any size of facility or product, ready to be up and running with a minimal amount of disruption.
The Main Benefits of PERUZA's Robotic Packaging System
PERUZA's packaging system enables a single operator to process over 8,000 packages per hour, increasing profits and representing a high ROI for processing facilities.
The PERUZA advantage…
PERUZA's turnkey solutions are revolutionizing food processing and packaging across multiple industries, using cutting-edge robotics and modular systems to bring considerable improvements in efficiency to businesses worldwide.