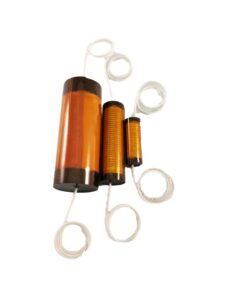 253P series, the 200°C Film capacitor series with unmatched stability
The PTFE 253P series is the most stable 200°C Film capacitor on the market with its unparalleled stability of <2,5% with capacitance from 0.22μF to 1μF under 250VDC to 800VDC. It offers the lowest loss characteristic (Tẟ) of all film technologiesless than 0,1% atextreme temperatures (200°C) with excellent life performance in operations. The series offers great resistance to vibrations, shocks and to over voltage making it ideal for Oil & Gas applications as well as Defense and Civil Aviation.
SPECIFICATIONS:
Voltages from 250VDC to 800VDC
Capacitance from 0.22μF to 1μF
Standard Tolerance ±10%, ±5%*
Operating Temperature -55°C to +200°C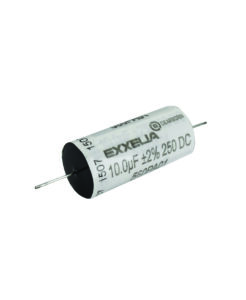 560P Film Capacitor series, is a High Temperature Polymer operating up to 180°C
Exxelia's 560P product series combines electrical performance between BOPP & PET while exhibiting a higher operating temperature up to 180°C and longer lifetime, it is the perfect cost-effective solution for high reliability and performance in severe environments. With absolutely no derating up to 150°C, its very stable TCC <2,5% and its great resistance to vibrations, shocks and over voltage, the series supplant high temperature ceramics and tantalums being an ideal choice for many capacitor applications in harsh environments i.e. DC Link, AC Filtering, ….
SPECIFICATIONS:
Voltages from 320VDC to 800VDC
Capacitance value from 0.022μF to 10μF
Standard Tolerance ±10%, ±5%*
Temperature ranges from -55°C to +180°C
Both series are available with a high degree of customization (* tighter tolerances available upon request). Representative samples are readily available for evaluation. For more information contact sales.usa@exxelia.com or visit www.exxelia.com