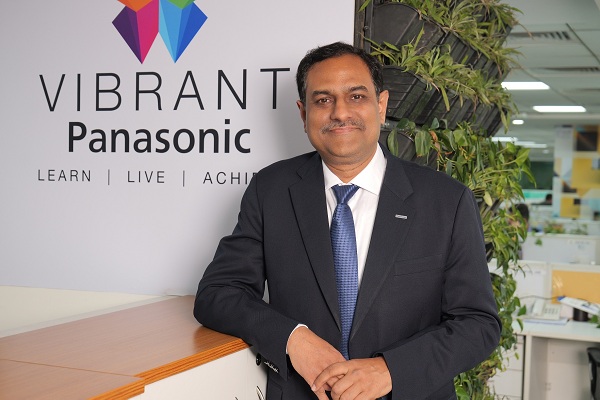 Panasonic Industrial Devices Division (INDD) delivers advanced industrial components and electronic devices to businesses in India. These include industrial automation devices, relays, connectors, sensors, wireless connectivity, and other passive components. The company's commitment towards driving innovation and delivering cutting-edge solutions to Indian automobile original equipment manufacturers (OEMs) and their suppliers has made it a key player in the automotive industry.
Narayan Kumar, Group Chief – Industrial Devices Division, Panasonic shares his insights into the remarkable technology strides Panasonic has made and its dedication towards shaping the future of automotive technology. Attached is his profile for your reference.
Give us an overview of the electronic component ecosystem and why is it gaining importance?
The Indian electronic component ecosystem has been experiencing substantial growth in the country with a focus on strengthening domestic manufacturing capabilities. This has led to a surge in demand for electronic components including semiconductors, integrated circuits, printed circuit boards (PCBs), passive components, Electromechanical Relays and more. The rapid expansion of the consumer electronics, automotive, telecommunications, digital infrastructure, and industrial sectors in India has led to an increased demand for electronic components. Additionally, emerging technologies such as autonomous driving, electrification of automobiles, cloudandedge computing to name a few are driving the growth of electronic components. Therefore, the domestic market for components is expected to increase from $21 bn in 2019-20 to reach $119 bn by 2025-26.
Moreover, in recent times, global players have been looking to diversify their supply chains due to the Pandemic & Geopolitical uncertainties. A renewed focus to reduce import dependence of supply chain disruptions during COVID has led to more inward-looking policies across the globe. Therefore, the government initiatives like "Make in India" and the "Production Linked Incentive (PLI)" scheme have been launched to stimulate domestic manufacturing, draw investments, and encourage exports in the sector.
The significance of this burgeoning electronic component ecosystem lies in several crucial aspects. Firstly, it diminishes India's longstanding dependence on imports, bolstering self-reliance and resilience. Additionally, the expansion of the sector generates employment opportunities across various skill levels, driving economic growth. The growth also positions India to partake in and contribute to global technological advancements, fostering innovation and competitiveness. Furthermore, as the ecosystem matures, India could establish itself as a manufacturing and export hub, bolstering foreign exchange earnings. The growth of the ecosystem also fuels research and development activities, contributing to innovation and the creation of intellectual property. Lastly, the availability of dependable and cost-effective electronic components supports the expansion of various industries, including automotive, aerospace, healthcare, and consumer electronics.
2. What are some of the recent trends that are defining the industry?
The electronic components industry is currently experiencing a multifaceted evolution driven by several key trends. The momentum behind the rollout of 5G networks is generating a surge in demand for components that facilitate high-speed data transmission, low latency, and enhanced connectivity. This, in turn, is propelling manufacturers to engineer specialized components tailored for seamless integration with 5G technology. Simultaneously, the Internet of Things (IoT) proliferation in various sectors is escalating the need for sensors, microcontrollers, and other vital components pivotal for establishing connections and empowering smart devices and systems.
Artificial Intelligence (AI) is making its mark across the electronics landscape, permeating an array of devices and applications. Consequently, the development of AI-centric hardware components, such as dedicated AI chips and accelerators, has become imperative to cater to the increasing demand for intelligent functionality. Consumer preferences are instigating a significant shift toward compact devices and wearable technology, fostering heightened demand for miniaturized components. The rise of wearable devices, including smartwatches and fitness trackers, further amplifies this trend.
In light of environmental sustainability concerns and power consumption considerations, the electronics sector is prioritizing energy-efficient components and technologies. The automotive industry's rapidly adapting electric mobility and Advanced Driver Assistance Systems (ADAS) is significantly reshaping vehicular capabilities, encompassing sensors, processors, and communication modules. Edge computing, an innovative paradigm that processes data closer to its source rather than within a centralized cloud, is experiencing a notable ascent, thereby driving the need for components that effectively support edge computing infrastructure.
The healthcare sector is also adopting electronics integration, particularly evident in the development of specialized components for medical devices and diagnostic tools, enhancing the landscape of digital health. The profound disruptions precipitated by the COVID-19 pandemic have underscored the vulnerability of global supply chains, prompting a strategic shift towards building more resilient supply networks and reinforcing domestic manufacturing capacities.
In tandem, the electronics industry is progressively gravitating towards sustainability and circular economy principles. Manufacturers are increasingly exploring sustainable design practices and materials to mitigate e-waste and advocate recycling. The acceleration of product development cycles is being fuelled by advancements in 3D printing, rapid prototyping tools, and simulation software, marking a significant leap in the realm of rapid prototyping and design.
3. Components are key to any industry. Be it EVs, sensors in factories, compressors in ACs etc., technologies are evolving at a rapid rate. What are your key innovations, developments and go to market strategy?
Panasonic's Industrial Devices Division (INDD) is driving innovation through consulting, designing, and supplying a wide range of technologies and systems to various industries, including automotive, e-mobility, telecom, Metering, Renewable, HVAC, manufacturing &factory automation infrastructure including products that ensure worker safety, drive productivity, product inspection & Traceability. To address each segment objectively, we have organised our INDD business under five verticals namely – Automotive, Industrial Infrastructure, ICT, HVAC and Industrial Automation solutions.
Panasonic's INDD has made significant contributions across multiple sectors with its innovative solutions. In the Automotive Solutions segment, we cater to OEMs with a focus on eco-friendliness, reliability, comfort, and safety. Our electronic components are being utilized in electrification, chassis & safety, interior, and human-machine interface (HMI) systems for vehicles globally. This includes sensors, touch panels, relays, switches, connectors, and more. For instance, our components support active & passive safety systems, LED lighting, vehicle body & security, infotainment & connectivity, instrumentation &human-machine interface (HMI), EV battery management, and ADAS.
Our ICT solutions encompass high endurance, efficient power delivery solutions such as thermal, noise management, sensor solutions, and lithium-ion batteries. We offer thermal management solutions like graphite sheets and thermistors, as well as noise control products such as EMC management components and circuit protection components. Sensor solutions cover a wide range, including MR sensors, gyro sensors, temperature sensors, and more. Furthermore, Panasonic is a prominent supplier of lithium-ion batteries, offering diverse options for various industries.
Under the Industrial Infrastructure solution, we deliver reliable electronic components to sectors like power utilities, solar, railways, and security cameras. We provide a range of relays, including mechanical and solid-state types, as well as connectors designed for durability and resistance to challenging environments. Snap-action switches find applications in security cameras and medical devices.
In the HVAC Devices portfolio, Panasonic excels in energy-efficient motors and compressors. These components find applications in air conditioning units, ventilation, refrigeration, electric vehicles, and more. Our brushless DC (BLDC) motors are gaining traction for its energy efficiency, complying with regulations, and optimizing overall performance.
In Industrial Automation, Panasonic offers AC servos & motors, industrial sensors, laser markers, programmable logic controllers (PLCs), human-machine interfaces (HMIs), machine vision systems, and machine safety solutions. AC servos & motors provide high precision and stability, while industrial sensors cover various types of factory automation. Laser marking systems offer precision marking for different materials. PLCs offer various functionality levels, including IIoT 4.0 features. Machine vision systems ensure accurate image processing, inspection, and quality improvement.
4. What is the Panasonic advantage that sets it apart?
Panasonic's steadfast commitment to durability, reliability and value-proposition serves as a cornerstone of its competitive edge. We anticipate the technological requirements for present and future needs and develop components and solutions accordingly. We do rigorous testing and quality control to ensure components withstand real-world challenges, offering long-lasting solutions that reduce the total cost of ownership in the long term. This commitment solidifies Panasonic's position as a preferred choice, emphasizing its role as a trusted and sought-after provider in the component market.
5. How is INDD catering to GoI's broad narrative of Make-in-India, EV policies, digitisation et al, through its component business?
Through our wide range of device and components, we are enabling enterprises to build reliable products and solutions and thus, enabling the Make-in-India initiative. We are also manufacturing T-Oil sensors in our Jhajjar plant in Haryana. Plans are in the offing to keenly study local mfg of some other key components.
6. What is INDD's outlook for India?
In recent years, India has placed a strong emphasis on indigenous manufacturing and innovation, driven by government initiatives like the Production Linked Incentive (PLI) scheme. This scheme encompasses large-scale electronics manufacturing, IT hardware, and semiconductors, all aimed at enhancing India's manufacturing prowess and bolstering exports as part of the Atmanirbhar Bharat initiative. The Electronics Manufacturing Clusters (EMC) program has also been introduced to cultivate a thriving ecosystem for electronics production within the country.
Moreover, digitalization has taken centre stage charting a course to transform India into a digitally empowered society which is seeing the rise in the adoption of connected devices and solutions in both (B2C and B2B sectors) which is anticipated to increase the demand for components as well.
The landscape is further evolving as global companies recognize the potential of India as an electronics manufacturing destination, catering to the growing domestic demand for electronic goods. With electronics being a dominant global industry valued at over USD 2 trillion, the diversification of manufacturing bases owing to Geopolitical uncertainties is prompting many Original Equipment Manufacturers (OEMs) to consider India as their next strategic hub. This confluence of factors positions India to enhance its component ecosystem through the integration of startups and new technologies, propelling the nation towards self-reliance and competitiveness on the global supply chain.