On 7 May, 2014, Panasonic announced that since the start of production in 1997, the total cumulative production of the solar cells used in its HIT solar modules has reached 1 billion cells, equivalent to approximately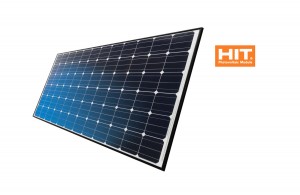 3GW. If all these cells were lined up in a row, they would be about two and a half times the circumference of the world*1.
HIT solar cells have a unique hybrid configuration combining amorphous and crystalline silicon which offers a high conversion efficiency and superior temperature characteristics with less degradation in performance at higher temperatures. They can also be made thinner than conventional solar cells and are capable of generating electricity from both sides.
Panasonic carries out the integrated production of solar modules, from ingots*2 to solar cells to modules*3. In utilizing the strengths of this production system, and with its technological strength and knowhow developed over the years, in addition to its thorough quality control, Panasonic has realized a high level of reliability for its solar modules. In April 2014, the company also achieved the world's highest*4 conversion efficiency of 25.6%*5 at a research level for its HIT solar cells.
In response to the expanding global market, due to growing environmental awareness and the subsidy schemes introduced by governments all over the world, Panasonic has been expanding its production systems in both Japan and overseas, and with its products utilizing its unique technologies, has worked to the spread the adoption of solar energy around the world.
| | |
| --- | --- |
| 1997 – | Start of production and sale of solar cells for HIT solar modules |
| 2000 – | Start of sale of HIT Double solar modules capable of generating electricity from both sides |
| 2001 – | Start of production of cells at the Shimane Factory |
| 2004 – | Start of operations at the Nishikinohama mother factory in Kaizuka City, Osaka |
| 2008 – | Start of module production at the Shiga Factory |
| 2012 – | Start of integrated manufacturing operations at the Malaysia Factory, from the wafer to cell to module. |
Currently, ingot production is carried out at the Oregon factory in the US, cell production in carried out at the Nishikinohama, Shimane and Malaysia factories, and module production is carried out at the Nishikinohama, Shiga and Malaysia plants.
By accelerating the development and commercialization of high efficiency solar cells, Panasonic will continue to contribute to the creation of an environment where people all around the world can live in comfort and safety.
*1 Calculated from the smallest cell for HIT solar modules that Panasonic has produced (width: approx. 10cm)
*2 A mass of crystallized silicon that is the raw materials for solar cells
*3 Solar cells etc. that have been combined into a panel
*4 According to research by Panasonic, as of April 10, 2014, for non-concentrating solar cells (regardless of size)
*5 Results of evaluation by the National Institute of Advanced Industrial Science and Technology (AIST)