Panasonic Industry provides new solutions for the Connected Factory and presents state-of-the-art equipment in the sector of microelectronics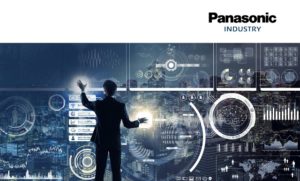 Munich, November 2019: Panasonic Factory Solutions Europe, a division of Panasonic Industry Europe, is one of the world's leading companies in the area of Smart Factory. Panasonic presents at the productronica in hall A3, booth 177, and Semicon, in hall B1, booth 640, in Munich – Germany, the latest innovations connected to Smart Factory, Industry 4.0 solutions and microelectronics.
From the 12th – 15th of November 2019, Panasonic Industry Europe showcases complete solutions for full process optimization. For a variety of business sectors, we cover the Cyber-Physical field that leads the way
towards a fully Connected Factory.
As an equipment provider and manufacturer, having our own facilities and lines, we experience production every day. This allows us to understand customers challenges and needs best. A highly unique combination with over a century of experience and engineering know-how enables us to provide a tailor-made solutions package of software and hardware to all our customers worldwide.Highlights like the AGV (Automated Guided Vehicle) with feeder cart auto-changeover or the Power Consumption Meter will be displayed at the productronica. Also security systems within the Smart Factory will be showcased, for example Panasonic's kaizen concept, which is a camera security system that optimizes the production process and logistics.
PanaCIM-EE Gen2 – Multi-Level Manufacturing Execution System
Different modules of PanaCIM Enterprise Edition Gen2 provide a complete integrated management of the SMT floor. In order to increase the productivity, reduce costs and enhance the quality of the product it can be tailored to support one machine or over 1000 machines. The modules of PanaCIM EE Gen2 can be installed individually according to customer needs and requirements. It provides modules for material control and verification, production control, traceability, analysis, monitoring and maintenance. PanaCIM EE Gen2 is a multi-level manufacturing execution system and supports from machine level to cloud level.
iLNB – The Line Management System
The integrated line management system iLNB provides collective control of the entire production line. It is a revolutionary system that controls the production with only one PC. The one master PC with iLNB connects all relevant steps on the production line and improves the overall productivity. Even the control of automatic production changeover is possible.
NPM-WX – The Component Mounting Machine
The Panasonic NPM-WX provides a higher line throughput and improved quality at lower cost thanks to integrated automated systems. Available feeder set up and component supply navigation systems helping to reduce the work variations. Parts supply from tape, stick and tray feeder are possible. Thanks to NPM-WXs integrated systems, component diversity and available options it represents the perfect solution for automated SMT production.
NPM-VF – Versatile and Flexible
Panasonic's current machine models offer something to suit all manufacturing requirements and every production need. High volume and low mix or high mix and low volume, Panasonic equipment is designed to be adaptable and flexible. With "Beyond SMT" Panasonic offers special equipment to place odd-form SMT components or to process PTH components: the new NPM-VF is a versatile and flexible machine that allows various configurations of head tools and machine feeder configurations to adapt to different types of components, may they be provided from stick, radial tape, tray or bulk feeder.
Panasonic Industry at the Semicon
Not only is Panasonic Industry Europe a total solution provider for the factory solutions sector. We are also constantly improving our portfolio in the area of microelectronics that will be exhibited in hall B1, booth 640 at Semicon exhibition. We offer process solutions and state-of-the-art equipment as well as software for high-precision wafer processing, ultra-high precision device bonding, and high-quality liquid crystal panel bonding.
APX300 Plasma Dicer
Panasonic's APX300 Plasma Dicer solves the challenges of increasing material loss due to the width of the dicing line,
mechanical damage to the dies from chipping, and increasingly longer processing times due to line-by-line dicing methods, whilst simultaneously increasing the yield per wafer, providing a higher quality product, at a lower cost of production.
MD-P300 Flip-Chip Bonder
Panasonic's MDP-300 process-flexible, flip-chip bonder combines flip-chip, thermosonic, and thermocompression bonding in a single, small footprint solution. Flexible bonding tools change from thermosonic to C4 to TCB processes directly. The MD-P300 is an ideal solution for COB hybrid assembly with an in-line Panasonic Industry SMT placement machine.
PSX307 Plasma Cleaner
Panasonic's PSX307 plasma cleaner provides 1.5 times the productivity of conventional plasma cleaners. Panasonic's Parallel Plate Chamber Technology delivers superior etch uniformity over conventional batch systems. Ultra-thin gold-plated electrodes can be wire-bonded reliably without nickel compound formation via argon plasma treatment.