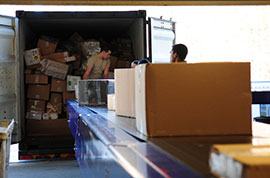 Every day, millions of parcels, letters and shipments are sent across land and overseas to a variety of amazing locations around the globe. Of course, with shipments going here, there and everywhere all day every day, the chance of bumps, scrapes and accidents is much higher. As a result, packing your shipments properly is important for ensuring a safe journey for your goods and this is particularly important for electronics. While a parcel delivery comparison service will find you the most trustworthy of couriers, there are plenty of things you can do to ensure the safety of your electronics and we've compiled just a few of them below!
Pick The Right Packing Materials
The packing materials you use when you pack up your electronics could be the difference between a safe delivery and one that could end in tears. As your first line of defence, the box you choose should be strong, sturdy and have a good chance at withstanding bumps and jumps. When picking your box, make sure that it is brand new, and double corrugated cardboard – skimping on costs here could result in much a higher payout if your items are damaged in transit!
With that in mind, the materials you use inside your box are just as important. If there's space between the items in your box, make sure you fill them with durable packing materials like bubble wrap, packing peanuts or plenty of crumpled packing paper and always make sure there's room for these around your items on the edge of the box too. This will ensure that there's extra padding inside of the box in the case of a rough journey.
Make Sure Your Batteries Are Protected
Batteries are the most important thing to keep safe when it comes to shipping your electronics, simply because of the danger they could pose in the case of damage. Batteries are actually considered hazardous goods due to the fact that damage or leakage of harmful liquids could result in fires and explosions. To pack your batteries properly, you need to make sure they are packed up separately from the rest of the goods in your box. Insulate them with plastic or electrical tape where possible, and make sure they're well-padded in case of collisions on route.
Wrap Your Electronics Properly
Just like batteries, you need to wrap your electronics properly too. Be generous with your wrapping materials, especially bubble wrap to not only provide padding for knocks and scrapes, but to keep them from jostling about too. Sharp edges need to be covered too, including corners and edges on consoles or the pins on plug sockets, for example, to keep them from piercing the box.
Make Sure Everything Is Properly Sealed
When it comes to sealing your box, make sure you do so with strong packing tape. Seal all of the edges and flaps, not just straight across, to make sure that nothing can get in or out. It's also a good idea to tape over the corners of your box too. While they might seem like the strongest part, the moment they're knocked or crushed, they can weaken considerably. Tape will prevent them from tearing or breaking and will keep your items safe inside their box.
When it comes to shipping electronics, you need to keep in mind the safety of the shipper as well as your shipment. By wrapping up batteries separately and ensuring enough padding to cope with bumps and scrapes, your items are likely to remain safe from the moment they leave your hands to the second they're delivered and opened by the recipient. Happy shipping!