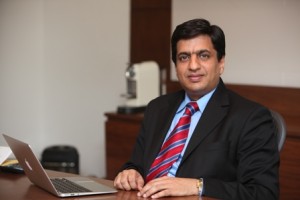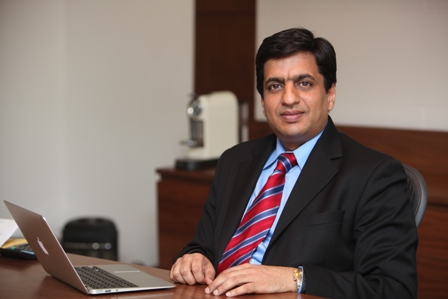 Jakson is one of India's leading Power Generation Groups. With 4 companies in its fold, the group has a strong presence in various sectors and has a turnover of Rs.1300 crores. Established in 1945, Jakson has more than 1800 employees with a sales and operations presence across India, Nepal & Bangladesh. The group manages diverse business interests in the areas of Power Generation, Power Distribution, Solar Power, Electrical Contracting, International business and Hospitality delivering comprehensive services in the market.
Mr. Sundeep Gupta, Jt. Managing Director of Jakson Power Solutions interacted with Electronics Maker about Jakson business, product technologies, market and plans.
1. Please explain solar power driven water purification technology and why this technology?
 As the name implies Solar Power driven water purification technology is water purification using electricity generated by solar energy. A lot of villages and people in India do not have excess to electricity and clean drinking water but solar power is freely available to all. Using this freely available solar power to produce clean drinking water will be beneficial to all such people.
 2. Tell us about Jakson –  Company details, business and products?
Jakson is a complete Power Solutions company.   A 70 years old name, Jakson today is a 1350 Cr. Group employing around 1800 personnel and having 75 point of presence in India . Jakson is one of the largest Diesel Generating Set manufacturers in the Indian sub-continent. With 6 manufacturing plants, besides D .G. Sets Jakson also manufacturers Switchboards upto 33KV, Control panels, Acoustic enclosures, Solar power plant equipment like Solar Inverter Sub-stations and String Combiner Boxes. Jakson is also a leading solar and electrical EPC Contractor and a Solar Power Plants Developer and plans to have 100 MW of Solar Power Plants in its portfolio in next 3 years.
 3. Jakson recently signs Technology Transfer Agreement with Bhabha Atomic Research Centre. Tell us more about this Agreement and how it will benefit the customers?
The Technology Agreements signed between Bhabha Atomic Research Centre and Jakson are for technology transfer for manufacturing of modular Solar Power driven RO system and ultra water filtration system. Jakson plans to commercialize the same to provide clean drinking water systems suitable for Industrial, residential and rural application. These products are highly suitable for remote villages where there is no electricity and lack of drinking water.
4. What is your vision and target to introduce the technology in India region?
Our vision is "Clean drinking water to all" and we plan to introduce commercially viable products for water purification in next 6 months.
 5. When it will be available for India buying?
Within next 6 months.
6. Which are the other overseas market you are targeting?
Apart from India we are also targeting African countries where situation is quite similar to India. We also plan to market these systems in certain middle eastern and south eastern Asian countries. These systems can have good market in all developing countries.
  7. What are your strategies to sell your products in India? Will it be direct buying or through channel?
The selling strategy will be a mix of direct and channel selling. The products will be primarily marketed through dealership network. We may go in for direct sales for certain Social / Rural Welfare schemes of Central and State Governments.
 8. Please discuss Jakson operation and research work in India?
Solar Power is at a nascent stage in India. Technology obtained from abroad needs to be Indianized and new products and applications need to be developed. Jakson is working in this direction. It has already developed and introduced Solar Inverter Sub-stations
for MW scale solar power plants which have been very well received by the Developers and EPC Contractors. Apart from water purification systems, we are in the process of developing a revolutionary product called mobile solar genset. We will be launching these products very soon in near future.
 9. What are your forthcoming plans if any?
We at Jakson believe that solar is India's future and plan to invest heavily in solar field. Our plan is to be a key player in India in various solar streams – IPP developer, EPC and products. As an IPP developer Jakson plans to augment its capacity from 20 MW to at least 100 MW of Solar Power Plants in next 3 years. In solar EPC and products our target is be amongst India's top 5 companies.
 10. Can you comment on power issues in India and can we have your suggestions for rectifying power problems?
Land acquisition, lack of cheap financing, financial health of public sector power utilities are some of the key issues plaguing the power sector in India. Central and State Government need to address these issues so that the growing power demand can be met.