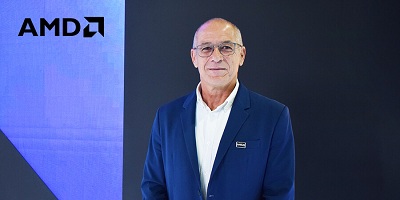 As a leader in high-performance and adaptive computing, AMD powers the products and services that help solve the world's most important challenges.  At IMC 2023 India we caught up with Gilles Garcia, Senior Director Business lead Data Center & Communications group at AMD to see what they are showcasing and their innovation for the next generation wireless technology.
What is your focus in data center and communication business in India?
AMD telco solutions address the complete radio access network (RAN) and the 5G core, covering the OSS, BSS, 5G core, RAN for CU (centralized unit) and DU (distributed Unit) and radios.
In February 2022, AMD acquired Xilinx – an industry leader in adaptive computing – possessing strong technology support for the radio and the DU acceleration through a specialized portfolio including the AMD Zynq UltraScale+ RFSoC, as well as the AMD T1 and T2 Telco Accelerator Cards.
Combined with the AMD 4th Gen "Genoa" EPYC CPUs, we are offering a complete end-to-end solution for vRAN and wireless radio access networks. Especially, with our latest release of the AMD "Siena" EPYC 8004 processors which is focused on telco operations, we can provide a strong TCO (total cost of ownership) by reducing the power consumption significantly for the CU and DU in the wireless area. With this latest addition, we are expecting to provide complete end-to-end solutions to our customers with a lot of success on the RAN and vRAN applications.
We have teamed up with Indian 4G and 5G equipment makers such as VVDN and C-DoT to offer telecommunications solutions in the country.
Please tell us about your innovation for the infrastructure security?
We are also bringing high speed security capabilities for the infrastructure to make sure that the network is secure and this is very important for the India market.
Today, a lot of security technology can scale up to 50 Gig or 100 Gig. What we are bringing is everything beyond 100 Gig. 100G Ethernet connection is the ideal solution for solving large amount of data problem in the Data Center. Supporting 100Gbps for efficiently transferring data with the reasonable infrastructure cost to satisfy the Data center's requirements.
So today, we are seeing 100 Gig TLS, which is one of the key encryption mechanisms for security, which is barely available anywhere else in the market. And we are able to scale up to 400 Gig of encryption capability to secure future high speed networks.
Which are the technologies you would like to explore more on?
I think that the 5G evolution to 6G is where AI is playing into the game. When you are capable of doing 5G signal processing and ML into the same AI capable device, then you are ready for 6G already. And so, that's what we are showing here as well as Technology innovation that is already making the future that people can investigate now. Because I see it's important. People need to start working on it. How can they put their new algorithm, their new innovation, piece of software into a technology that allows them to scale to 6G.
Any challenges you would like to highlight, especially for the Data Center and the communication business?
For me, I think the challenge of India is power efficiency. It is a critical one. And we have addressed that. Because, AMD has a key focus on power efficiency for the devices we are bringing. So I believe that we are entering very well. The challenge and the constraints of the size of India and the requirement to be able to power radios with a very low power capability. So that's something very important.
For the Data Center we are embracing Made in India. There is a top-down push by the governments for the Made in India. And that's why we are developing the ecosystem. And so, it's not anymore a challenge because we have the ecosystem. It's more to make sure that the ecosystem is bringing to market the technology. We are, of course, working still with the other big OEMs on the wireless side or on the server side because they are also getting a market share in India.
What are your future plans for India?
Our India teams will continue to play a pivotal role in delivering the high-performance and adaptive solutions that support AMD customers worldwide. We have announced plans for continued growth in India through an approximate $400M investment over the next five years. The planned investment includes a new AMD campus in Bangalore, Karnataka that will serve as the company's largest design center, as well as the addition of approximately 3,000 new engineering roles by the end of 2028.