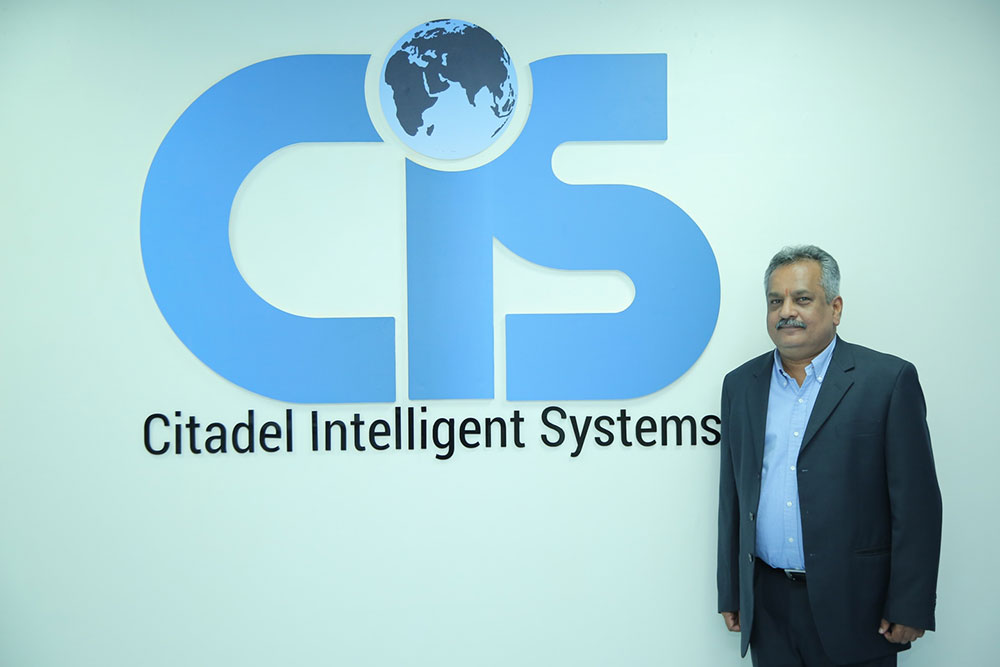 Headquartered in Bangalore, CIS is a manufacturing start up focusing on providing cutting edge fiber optic solutions. It manufacturers customized fiber optic interconnectivity solutions which find their application in Enterprise and Telecom Networks, Smart Cities, Security & Surveillance systems and Harsh Environments. CIS is spearheaded by the industry veteran Mr. KK Shetty. As part of its business strategy, CIS has now entered into Defence space with its tactical and ruggedized products that best suit for harsh environments like Defence and Aerospace. Mr. KK Shetty, CEO & MD, Citadel Intelligent Systems Ltd. shares with EM more about company and its plans.
It's been more than a year for Citadel in Indian market, what were your achievements and challenges faced during the initial phase? 
It's been a good year since we started up with Citadel Intelligent Systems Ltd (CIS). Led-by an experienced management team, our sales team, customer support and technical team have shown great expertise in our core target sectors- enterprise hyperscale and datacenters, telecom, aerospace and defence, security and surveillance and smart cities. In the last 9 months, we were able to penetrate into each vertical and have got good market exposure in terms of acquiring MNCs and local customers based in India. In the first year of our operation we were able to export our products to countries like USA and Israel. In terms of our employee strength we have already crossed the bench mark of 100 employees at CIS.
Advertisement

With a collaborative experience of 250 years in our leadership team, market knowledge and driving a business were never a challenge for us. But any business goes through a certain hardship during their inception phase. Similarly,we had anticipated a few of it in terms of setting up our manufacturing unit,government approvals, identifying the right technicians and skilled workforce and so on. But, eventually, when we started with our setting up process, it was a smooth ride. This was because of the existing state's policy on ease of doing business, GST, and availability of excellent young talents from tier-I and tier II cities in and around Karnataka.
Highlight the offerings of Citadel.
At CIS, we manufacture customized Fiber optic interconnectivity solutions which find their application in Enterprise and Telecom Networks, Smart Cities, Security and Surveillance systems and Harsh Environments. We manufacture Single Fibre, Multi Fibre Connectivity products and Ruggedized Fibre Optic assemblies for harsh environment (aerospace and defence). We also manufacture & assemble Value Added Fibre management systems serving customers across diverse market segments.
Citadel has a strategic tie-up with AFLHyperscale, which is an innovator and one of world's largest manufacturers of Optic fibre solutions. How has this partnership been beneficial for both the entities? 
It is a win- win situation for both CIS and AFLHyperscale. As far as CIS is concerned, with this alliance, we get access to the superior engineering, new product development and latest technology in optical fibers and test equipment. Further, it has aided us to position our brand and our products on the global platform. Likewise, through our operational excellence, AFL has gained the market exposure and penetration in the Indian market.
How do you look at the global scenario of optical fibre network and how is India performing vis-à-vis global demands?
If you see globally, the Internet, the telecom and IT segments are dominating the overall markets.This trend is expected to continue during the forecast period owing to the rising need for greater bandwidth and faster speed connections. These factors have increased the demand for optical fiber cable which helps to transmit high density data consuming lesser space as compared to the traditional copper cabling systems. Widespread implementation of 5G, increase in adoption of fiber to the home (FTTH) connectivity, and emergence of internet of things (IoT) act as major drivers of the market. Optical fiber infrastructure allows plug and play model, which is widely accepted by all the end users. Technological advancements in the fiber optic cable technology and rise in investments in optical fiber cable (OFC) network infrastructure are expected to provide lucrative opportunities for the market.
There is an indispensable need for high capacity data centers in the enterprise sectors due to the humungous amount data generated and stored every day. How an integrated optic fiber solution can help the enterprises deal with these challenges? 
Recently if you have noticed, all the SMEs are moving towards cloud environment. This is due to the capacity, cost and security factors. With the technology advancements, a huge amount of data transaction happening, globally, at one single point of time. The copper technologies are being ineffective in handling the data load and derive results at a speed which the enterprises are looking at. The factors like speed, durability, attenuation of data loss, security and interference have accelerated optic fibre to emerge as the best solution to all these challenges. Once installed the fibres assure better connectivity and better productivity and hassle-free executions.
With more than 460 million internet users and the amount of data generated every day, the present infrastructure may soon fall short in the face anticipating the growth of data. Hyperscale data center infrastructure could be a solution to address the huge demand. How is Citadel Intelligent Systems prepared for the same? 
Fiber Internet connectivity offers significant reliability, security and cost effectiveness advantages over copper Internet connectivity. Also, Fiber-optic Internet is not vulnerable to inclement weather or hazardous situations along with human or electrical interference (unless fibers are physically cut). The signal strength of fiber-optic does not degrade with distance, so organizations in relatively large spaces could benefit from better signal strength throughout the facility. So gradually optic fibre is replacing the cable wires at most of the organisation and that is a futuristic move too.
We, at CIS, believe that we can visualize the need of a customer and we respond to that with our customized solutions which also makes us the preferred choice for our customers. With our strong operational capabilities and excellent knowledge of the leadership team in fiber optic industry, we will be able to offer the suitable customized solutions to our customers and partners.
Which are the driving factors in the massive growth of Optic fibre networks?
Infrastructure development, telecom revolution (5G), increase in adoption of fiber to the home (FTTH) connectivity, Government's ambitious projects like Digital India, Smart Cities and BharatNet , e-Commerce boom, banking, Digital payments, mobile data transaction etc. are the driving factors.
As the world is moving towards software-defined wide-area networks (SD-WAN), wireless is often seen as the perfect fit. Do you consider it as a big challenge for the optic fibre business?
No, for us this is not a challenge. We see it as an advancement which would benefit the end-users. The two systems — fiber optic and wireless — are complementary to each other. Globally, many organisations use communications system that has both fiber optics and wireless transmissions and they are benefitted from it largely.
Government's digital revolution plan in the first phase has shown remarkable results how do you foresee it in the coming years?
The world is already moving towards digital and we see more and more acceptance of digital media as it also brings the convenience factor. People are using digital medium for communication, transaction or all the finance- related activities on digital platform. Digital is faster and highly efficient. With this, I see it growing at a rapid pace in the coming years.