onsemi, a leading provider of semiconductor solutions, has introduced an innovative line of products called EliteSiC. Designed to revolutionize the field of power electronics, EliteSiC devices leverage the advanced material properties of silicon carbide (SiC) to deliver higher efficiency, improved performance, and enhanced reliability to a wide range of applications.
onsemi EliteSiC devices address the needs of demanding high-power applications like solar inverters, electric vehicle chargers, and uninterruptible power supplies (UPS). The devices form a comprehensive portfolio of energy-efficient Silicon Carbide (SiC) diodes, MOSFETs, modules, and gate drivers.
Enhanced SiC Technology
SiC has emerged as a game-changing material in power electronics due to its exceptional properties. Unlike traditional silicon-based components, SiC exhibits higher breakdown voltage, faster switching speeds, lower on-resistance, and superior thermal conductivity. These characteristics make SiC an ideal choice for applications demanding high power density, reduced losses, and improved efficiency.
onsemi's EliteSiC product portfolio incorporates the advantages of SiC technology to offer a range of innovative solutions for various power conversion and energy management applications. The company's expertise in SiC materials, device design, and packaging techniques has led to the development of cutting-edge products that push the boundaries of power electronics performance.
onsemi's complete manufacturing capabilities in SiC set them apart as leaders in SiC manufacturing. onsemi's vertically integrated approach (Figure 1), covering the entire manufacturing process internally, from the substrate to the systems, is evident. Their capabilities span from silicon carbide crystal growth to 150mm wafer production (and eventual 200mm migration), device fabrication, and packaging. This results in a diverse range of diodes and MOSFETs. These products are available in various packages and configurations, including hybrid and SiC modules with single and dual cooling and case and transfer molded options. Furthermore, onsemi's EliteSiC product lines offer exceptional support to design engineers in the US, EMEA, and Asia and extensive expertise in automotive and industrial applications.
SiC devices have advantages over Si in terms of enhanced power densities, improved efficiencies, and reduced power losses. SiC systems stand to gain significantly from their smaller size and decreased weight, which can result in cost reductions. This is achievable due to the simpler topologies, higher BVdss, and lower RDS(on) of SiC devices, enabling higher switching frequencies that require smaller passive components, reduced cooling requirements, and smaller heatsinks and packaging.
In addition, onsemi's proven high quality and strong planar designs are possible due to in-process control and burn-in, defect scanning, and avalanche testing of all SiC dies during the manufacturing process. Therefore, these devices exhibit no drift of threshold or parameters and a dependable gate oxide. The latest 3rd generation EliteSiC offerings have the following characteristics:
Optimized for high-temperature operation

Diodes: Low series-resistance temperature dependency
MOSFETs: Stable reverse recovery over temperature

Improved parasitic capacitances for high-frequency, high-efficiency applications
Large die with low RDS(on) are available
Automotive and industrial-grade options for all values and packages
Wide offering in standard and custom power integrated modules (PIM)
Large portfolio of voltages and RDS(on) available in 3- and 4-leads packages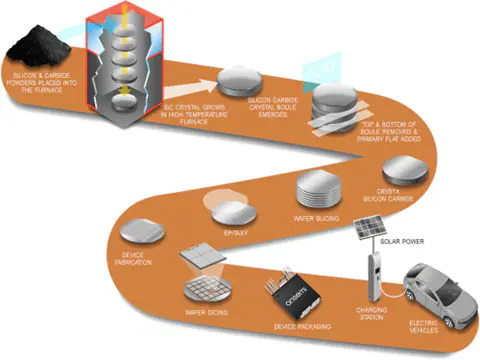 onsemi's wide range of SiC products (Figure 2) allows design engineers to choose the power topology that best fits the size, cost, and efficiency constraints their power designs require.
Key Features and Benefits of EliteSiC Products
High Efficiency: EliteSiC devices deliver significantly higher efficiency compared to their silicon counterparts. This improved efficiency translates to reduced power losses, lower operating temperatures, and increased system reliability. It enables engineers to design power conversion systems that are more energy-efficient and environmentally friendly.
Compact Design: EliteSiC devices feature a compact form factor, enabling higher power density designs. With reduced size and weight, these devices are particularly advantageous in applications where space is limited, such as electric vehicles, renewable energy systems, and industrial power supplies.
Faster Switching Speeds: The superior switching characteristics of EliteSiC technology enable faster turn-on and turn-off times, reducing switching losses and enabling higher frequency operation. This capability leads to more compact and efficient power converters and motor drives.
Wide Temperature Range: EliteSiC devices exhibit exceptional thermal conductivity, allowing them to operate reliably across a wide temperature range. This feature is especially crucial for demanding applications that require high-temperature performance, such as automotive powertrain systems, aerospace electronics, and high-power industrial equipment.
Enhanced Reliability: The robust nature of SiC technology ensures improved device reliability and longevity, even in harsh operating conditions. EliteSiC devices have a higher tolerance for voltage spikes, current surges, and temperature variations, minimizing the risk of failures and downtime in critical applications.
Power Application Solutions for EliteSiC Products
Electric Vehicles (EVs): EliteSiC enables higher efficiency and increased power density in EV powertrain systems, leading to extended driving range and faster charging times.
Renewable Energy: EliteSiC devices optimize energy conversion and management in solar inverters, wind power systems, and energy storage applications, maximizing the efficiency of renewable energy generation.
Industrial Power Supplies: EliteSiC technology enhances power conversion efficiency, reducing energy losses and enabling compact designs in industrial power supplies, UPS, and motor drives.
Aerospace and Defense: EliteSiC devices offer enhanced performance and reliability in demanding aerospace and defense applications, including power modules, avionics, and electrical propulsion systems.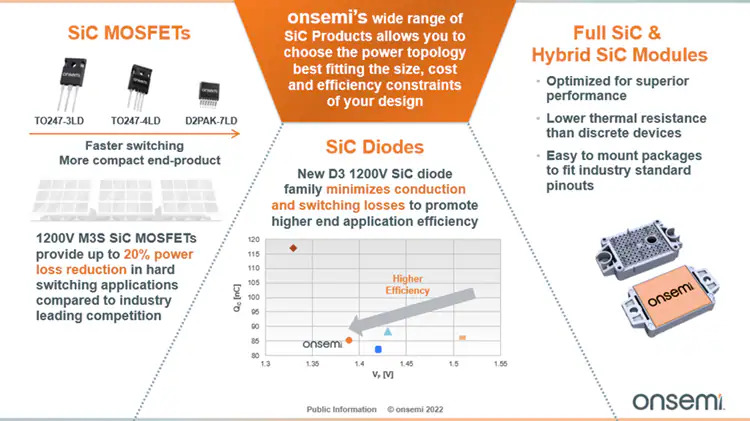 Featured Products
This week's New Tech Tuesday showcases onsemi's EliteSiC portfolio of products.The portfolio range consists of energy-efficient SiC Diodes, MOSFETs, Power Modules, and Gate Drivers. All EliteSiC device product lines target high-demand applications and are designed to provide higher efficiency, greater power density, and improved thermal performance compared to traditional Silicon (Si) solutions. They offer lower power losses, less switching noise, and improved reliability.
onsemi EliteSiC portfolio offerings include:
650V/1200V/1700V SiC Diodes – D1, D2 and D3 Family
650V/900V/1200V/1700V SiC MOSFETs – M1, M2, and M3 Family
Isolated and Non-Isolated SiC Gate Drivers – Single and Dual Channel
Power Integrated Modules (PIM) – Full SiC and Hybrid