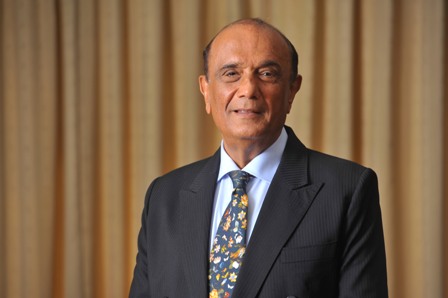 Mirc electronics the makers of Onida, was started by Mr. L. Mirchandani and Mr. Vijay Mansukhani in 1981 in Mumbai. ONIDA today enjoys a strong equity among consumers, making it one of the leading brands in India. Besides being a leading brand in CTV, LCD & DVD categories, ONIDA has established itself as a strong player in the household appliance categories of Microwave Owens, Air-conditioners, Washing machines and mobile phones. Mr Vijay Mansukhani, MD MIRC Electronics (ONIDA) spoke to EM more about the brand, market and current television trends.
As the current trend in televisions is smart and Android TVs, what kind of products have you been introducing to tap this market?
We have recently lunched Our KY Super Thunder smart and android televisions. The Onida KY SUPER THUNDER with KY HORNS technology comes with the Smart feature as well. These SMART TV will run on an Android 7.0 operating system, enhancing the viewing experience. This will also allow users to have access to the Google Play store and a suite of other services, as added value. It has an Air Mouse Remote with Point & Click technology and QWERTY keyboard behind.  When other leading brands offer a high-end big-screen 4K UHD TV at a price point of 1 lakh upwards, Onida offers true value in much lesser cost with distinct product features and benefits revolving around Big Picture, Big Sound.
Can you throw some light on your recent foray in to manufacturing of panels?
The increase in customs duty on television panels import to 15% from 5% has made us venture into manufacturing of panels for captive consumption. During the current year we have used 80% of panels made by us.
How is your new initiative of non-captive manufacturing flaring in the light of increasing customs duty by Govt. for promoting Make in India?
We have taken strategic decision to start non-captive manufacturing during the current year and had started manufacturing televisions for Reliance Retail from July 2018. We have applied for BIS clearance for another four more players in the market and very soon we will manufacture televisions for them. After Government of India's initiative to increase customs duty to 20% on import of finished television sets, the demand for make in India has gone up and we would like to ride that opportunity.
Why do you think you are better than other large players in the market in terms of both mechanical and electronic designs?
Onida is a powerhouse of brands, our wide range of TVs being the frontrunners. We are known for introducing innovative and advanced products by its experienced R&D team from time to time.
The single most distinctive feature of our TVs vis-à-vis competition is the "WOW" sound. This sound is of the highest quality, clarity and is built around our proprietary KY Horn technology. Over the years, we have been loved by our consumers and channel partners too, recalling our TVs being very non-conformist in a way that has surprised them. We are the only company which has been working on both sound and picture quality, whereas others have been focussing only on quality of the picture. If you look at air conditioners we were one of the first players to introduce IoT and always sticked to copper in our compressors.
Why do you think consumers love sound and picture quality equally in India and which had really worked in your favor?
We deeply understand the Indian family and their preferences and place them at the forefront of our innovations and offering. The ambience sound in India is high so the people would like to watch the TV with loud sound. With true spirit to our tag line Neighbor's Envy and Owner's pride, the Indian consumer would like his neighbor knows about the best product he owns it.
How are your other two segments of business air conditioning and washing machines have been performing?
We have equal contribution from air conditions to our revenues, which always stood anywhere between 35% to 40%. Washing machines have contributed 10 to 15% of our revenues. The air conditioners business is growing steadily, whereas growth rates in washing machine sales are phenomenal for us.
What is your view on GST rates on air conditioners and FTA's Government of India have been entering?
The high GST rates on air conditioners should be reduced from 28% to 18% as this item has moved from the list of luxuries to necessity for a common man because of increase in global warming. The reduction in rate of GST on televisions should be on all sizes and should not have any restriction as this is the first item consumers buy always when they have some disposable income. The Government should enter conditional FTA agreements for importing of agricultural produce and exclude electronic products otherwise this would act as counterproductive for Government's initiative to increase make in India.