Mumbai, April 16, 2015: Reiterating its prowess in the integrated automation solutions for the packaging domain, Omron Automation displayed a wide spectrum of its advanced and high-end range of factory automation solutions at Intelpack 2015. Known as India's largest fair on the packaging sector, the exhibition, in its 14th edition, focused on cutting edge packaging technologies across the realm of manufacturing and processing industries.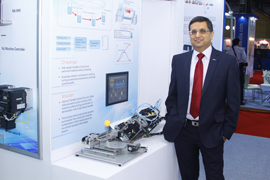 Commenting on the participation, Mr. Sameer Gandhi, MD, Omron Automation India, said, "The packaging industry is the 5th largest industry in India. Currently on a double digit growth, it is expected to witness a significant upward trend in the next decade spurred by many positive factors such as the growing middle class & optimised retail, etc. Omron, being a pioneer in automation, is well poised to assist the sector with its India-specific 'total solutions' approach."
The entire portfolio exhibited at OMRON booth corroborated the company's vision of utilising automation technologies to enrich lives of people around the world by contributing towards varied industries such as food & beverage, pharmaceuticals, chemicals and FMCG to name a few. Some of notable exhibits were the solutions based on Omron's flagship SYSMAC integrated automation platform – bottling solutions, SCARA Robot and NJ Demo Kit. The company also showcased its key range of products and components.