– its Data-Driven "Co-Creation" Solution Service
Mumbai Aug 23 2023: OMRON Automation, a leading provider of advanced industrial automation solutions in India, is all set to strengthen its business focus around "i-Belt" – the company's data-driven co-creation solution service.
The company boasts of one of the widest portfolios of automation solutions spanning across Smart Sensors, Robots, Vision, Machine Safety, PLCs, Servos and Drives, and the addition of i-Belt will add another value to the end-to-end solution line up data-based service and consultation perspective.
Facilitating lean digital transformation by enabling the collection of data at any level – both operational and process- OMRON's i-BELT Data Services help customers realize the power of data to their advantage. It assists in linking the production and management challenges with manufacturing data. The data is then turned into meaningful information with OMRON's expertise to achieve higher standards of predictive and preventive maintenance focusing on solving production challenges. These range from unplanned downtime, low quality, uncertainty & reliability, increasing maintenance cost, etc. to bring in higher levels of overall equipment effectiveness and more informed decision making.
"One of the most effective traits of i-BELT is the co-creation synergy of OMRON technology and customer processes. The idea is to empower our customers for the best and effective data harnessing and utilization. The data collected and visualized is fed back to the production line of the customer, to help them attain flexible, people and environment friendly production that is quickly adaptable to changes through Co-creation, formulation of challenges based on data and advancement of innovation in phases. The cycle continues thus resulting into a truly sustainable value creation over a period," says Sameer Gandhi, MD, OMRON Automation, India.
OMRON's plant examination service focuses on four domains -manufacturing, quality, equipment, energy. "The i-BELT team extracts issues through visualization and analysis, and provides services, such as improvement assistance and automation, suited to different phases and needs. The technology also focuses on energy efficiency by monitoring power consumption and providing insights into optimizing overall plant system configuration. By fine-tuning these parameters, it helps minimize energy waste and improves overall system efficiency. This leads to reduced energy consumption, lower operational costs, and a smaller environmental footprint. It leads to a significant impact on attainment of carbon neutrality goals- one of the prime imperatives for sustainability for manufacturing businesses," Sameer adds.
Here is a glimpse of the i-BELT service ecosystem: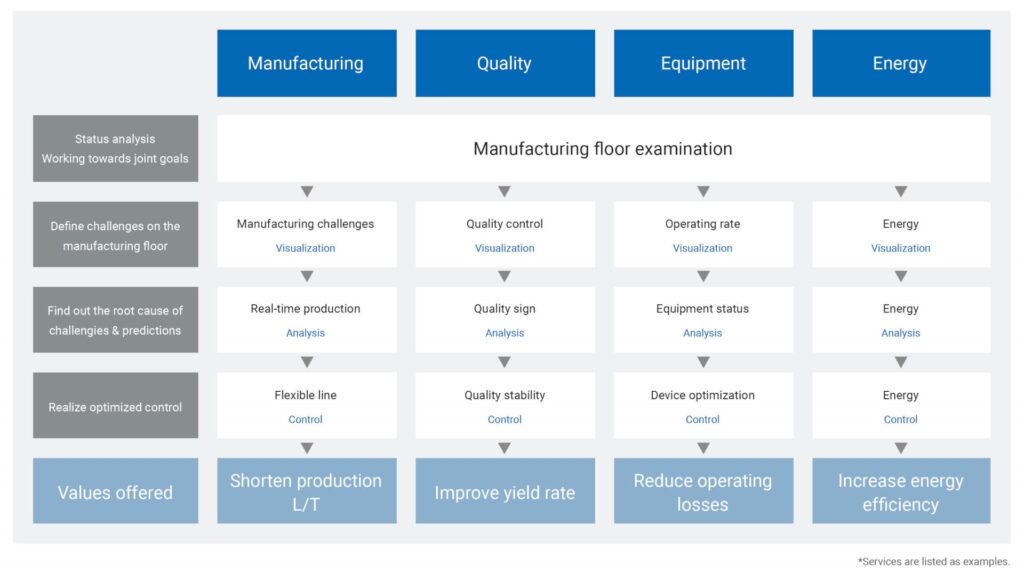 While i-BELT holds potential for all kinds of manufacturing Industries, OMRON Automation has been making stronger inroads into the automotive, Food & Commodities, Digital and Pharma manufacturing industry with the service and has been witnessing greater rates of success and acceptance.
A small demonstration of i-BELT has been on display at the ongoing Automation Expo 2023 at Mumbai. It comprises an application showing how palletizer historical data & real time data can be synergized into a dashboard to have better control and operation visibility. Apart from enhancing its focus on data-based services, the company continues to make its conventional product line stronger. Some of the recent launches of the company include New Controller NX502 with advanced information, motion and safety control to achieve high production, quality and energy productivity and TM -20, the new collaborative robot for heavy payloads in India