Making good on a promise from last year's State of the Union to help create good-paying American jobs, President Barack Obama on Wednesday announced a new public-private manufacturing hub in North Carolina to develop next-generation power electronics.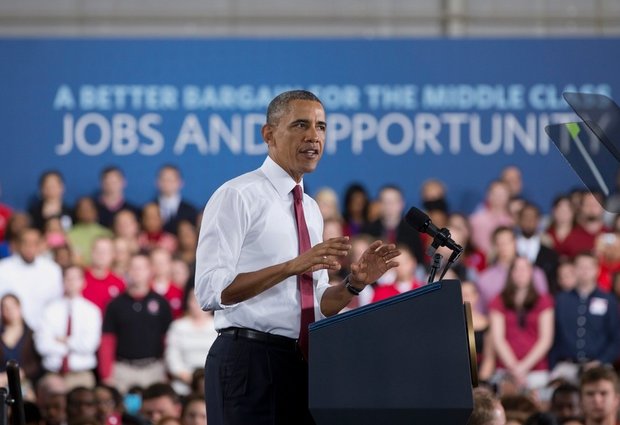 Obama's announcement was meant to give a manufacturing boost to the state that has taken hits in the recession. "We're not going to turn things around overnight. A lot of jobs were lost in the textile industry and furniture-making," he told 2,000 gathered at a North Carolina State University arena.
A group of businesses and universities, led by North Carolina State University, will work together to design and manufacture next-generation, low-power semiconductors, U.S. President Barack Obama said.
The new manufacturing innovation institute, one of five such innovation hubs proposed by Obama last February, will focus on enabling a new generation of energy-efficient, high-power electronic chips and devices by making so-called wide bandgap semiconductortechnologies cost-competitive with silicon-based technologies in the next five years, Obama said during a speech in Raleigh, North Carolina.
One goal of the North Carolina project will be to make motors, consumer electronics, and other devices faster, smaller and more efficient, Obama said. Another goal is to reverse a manufacturing job loss that the U.S. has experienced in recent years, he said.
The consortium of businesses and organizations in North Carolina includes wide bandgap manufacturers, materials providers, and technology end-users John Deere and Delphi, according to a White House press release. The group submitted a winning proposal to launch an innovation hub, and the U.S. Department of Energy will award the hub $70 million over five years, matched by at least $70 million by the winning team of businesses and universities, along with the state of North Carolina, the White House said.
Other members of the consortium include RF Micro Devices, Toshiba International, Virginia Polytechnic Institute, National Renewable Energy Laboratory, and the U.S. Naval Research Laboratory.
The North Carolina hub will provide shared facilities, equipment, and testing and modeling capabilities to companies. particularly small and medium-size manufacturers, to help invent, design, and manufacture new semiconductor chips and devices, the White House said. The hub will pair chip designers and manufacturers with large manufacturers and suppliers, with the goal of bringing new technologies to market faster.
The hub will also be offering training, education programs, and internships for U.S. workers needing new job opportunities, the White House said.