NovaCopy, Inc., one of the leading providers of 3D Printer and scanner solutions, today announced the launch of two completely new versions of the Go!SCAN 3D portable scanner. Both versions provide unmatched fast and reliable 3D measurements, while offering the easiest portable 3D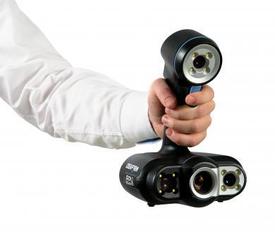 scanning experience on the market.
The Go!SCAN 50 was designed to measure the shape of medium to larger parts and offers optimal flexibility. The Go!SCAN 20 delivers maximum resolution and is dedicated for use with smaller objects with intricate details, making it the perfect companion for 3D printers. Customers will attest to the Go!SCAN 3D's multitude of benefits:
• High speed – Typical objects are scanned in five minutes or less.
• Professional-grade measurements – The Go!SCAN 3D provides an accuracy of up to 0.1 mm (0.004 in.) and resolution of up to 0.2 mm (0.008 in.).
• Full-color 3D models – Users can easily and simultaneously capture of high-quality geometry and colors.
• TRUsimplicity™ – Extremely simple scanning process.
• Point and shoot – No preparation or complicated setup is required. The scanner is up-and-running in less than two minutes.
Designated a Creaform Channel Partner, NovaCopy's fast, easy and reliable portable scanning systems add to their existing arsenal of 3D Printer solutions. Creaform 3D scanners are the tool of choice throughout many industries including aerospace, transportation, manufacturing, energy, research, education and consumer products.
"Creaform scanning technology guarantees a quick, reliable (as well as affordable) means for customers to enhance their 3D printing and prototyping processes," said NovaCopy's President of 3D Printer Solutions, Melissa Ragsdale. "These new scanners will provide NovaCopy's customers a level of unmatched accuracy throughout their entire product development process."
3D scanners are used in reverse engineering processes or product development whereby an object is scanned into a digital file so it can be manipulated. These systems, such as the GO!SCAN 3D scanners, can be used by anyone, without requiring prior experience, and provides visual guidance as one scans through real-time visualization and ongoing positioning assistance.
"Thanks to this latest Go!SCAN 3D release, 3D scanning has never been easier," explained François Leclerc, Creaform Product Manager. "With the addition of color and the intelligent hybrid positioning system, the Go!SCAN 3D are the professionals' go-to all-around solution for professional-grade 3D scanning capabilities."