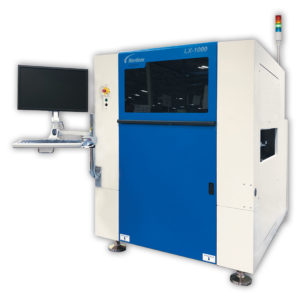 Aylesbury, Buckinghamshire, UK — January 2020 — Nordson Test and Inspection will exhibit in Booth #1625 at IPC APEX scheduled to take place February 4-6, 2020 at the San Diego Convention Centre, San Diego, USA.  Systems from Nordson DAGE, MATRIX, SONOSCAN AND YESTECH will be available for demonstrations.
IPC APEX 2020 will see the launch of the YESTECH LX-1000 In-Line Large Area Optical Inspection system.  Offering a 630mm x 630mm inspection area together with single or dual sided imaging with full travel imaging sensors, this new system offers high speed PCB inspection with exceptional defect coverage.  Also previewed at the show will be the Assure™ Stock automated X-ray component counter, the future of full automated and operator free reel handling and counting of SMD-components in the electronic manufacturing process. This system is modular, and will be showed combined with a conveyer and a stacker.
IPC APEX will also see the Americas launch of the DAGE Prospector™ Micro Materials Tester.  Visit the stand to learn more about these exciting new additions to Nordson's award-winning product portfolio.
Also showcased will be the MATRIX X3 high speed inline automated X-ray inspection system for the inspection of PCB-assembly boards for single/multi-panels or samples in trays and SONOSCAN Gen 7 C-SAM acoustic microscope for laboratory analysis and specialized high resolution applications. The YESTECH FX 940ULTRA AOI and DAGE Quadra 7, X-ray inspection system and Assure™ X-ray Component Counter will complete the systems on display.
Nordson DAGE, MATRIX, SONOSCAN and YESTECH offer an award-winning portfolio of Acoustic Micro Imaging, Automated Optical Inspection, Automated X-ray Inspection, X-ray Component Counters, Manual X-ray Inspection, Bond Testing, Micro Materials Testing and Wafer X-ray Metrology systems, bringing powerful cost-effective solutions to the PCBA and Semiconductor industries. Please contact your local representative to book a demonstration.