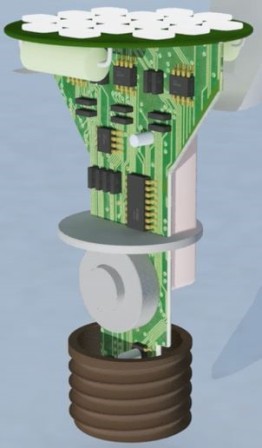 New Patented Technology Integrates LEDs into Smart Home/Smart Office Systems
Suffern, N.Y. – January 8, 2019 – There was a time when cell phones just made phone calls. Today's smart phones take pictures and video, surf the web, access email, schedule events, provide driving directions and help find the best pizza in town. What happened to cell phones is about to happen to LED lighting. Smart LEDs will not just provide light, they will include a smoke/CO/gas detector, they will create a path to safety during fires or other emergencies, they will serve as an intercom system, they will be voice-controlled, and they will fully integrate with Smart Home and Smart Office networks.
Since Thomas Edison invented the light bulb 140 years ago, the only major improvement has been the replacement of incandescent filament bulbs with LED fixtures. The next major advancement is here:
Each smart LED contains a smoke/CO/gas detector. No tools needed. Just screw it in.
Each smart LED and smoke/CO/gas detector communicates with the other smart LEDs creating strobing color-coded signals that guide residents to safety in the event of a fire or other emergency.
A smart LED also broadcasts warning messages informing residents of what the specific danger is.
The smart LEDs are voice-controlled by their user.
Smart LEDs can be used to create a private, user-defined intercom network.
These combination LEDs and smoke/CO/gas detectors can be used in place of conventional smoke/CO/gas detectors, to supplement units already in use, or to provide additional coverage in unprotected areas such as garages, attics, basements, storage sheds and temporary structures.
This new generation of LEDs fully integrates into today's Smart Home and Smart Office networks.
They run off rechargeable batteries so they function during power outages.
The next generation of combination LED/smoke detector/intercom is protected by two patents and two pending patent applications:
U.S. Patent No. 9,747,763: Networked audible and visual alarm apparatus and method of synchronized alerting
U.S. Patent No. 10,028,357: LED light bulb, lamp fixture with self-networking intercom, system and method therefore
U.S. Patent Application 20180018866: Networked audible and visual alarm apparatus for synchronized alerting with a base station and electronic coding for each alarm
U.S. Patent Application 20180082685: Networked audible and visual alarm light system and method with voice command control and base station having alarm for smoke, carbon monoxide and gas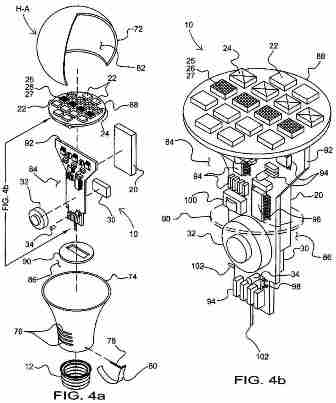 According to Alec Schibanoff, Vice President at IPOfferings LLC, the patent broker that represents this smart LED portfolio, "the company that acquires this portfolio will leapfrog the technology of all of its competitors, leaving them selling yesterday's technology."
Additional information about the Smart LED patent portfolio is available from IPOfferings at patents@IPOfferings.com or 845-337-6911.