The ACS772/3 family expands to include through-hole and surface-mount CB package options with enhanced working isolation voltage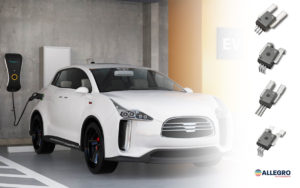 Manchester, NH USA – Allegro MicroSystems, a global leader in power and sensing solutions for motion control and energy efficient systems, today announced significant ease-of-use enhancements to its popular high current fully integrated ACS772/3 current sensor "CB" package family.
These industry-leading, automotive-grade high voltage isolation current sensors already provide economical and precise solutions for both AC and DC current sensing up to 400A. Building on that leadership and deep customer-understanding, Allegro's new surface-mount leadform option for the CB package is the answer to many customer challenges by providing a flexible solution for space-constrained applications.
Flexible. Easy. Efficient.
"This is a classic, 'You asked – we listened.'  innovation with purpose moment for us," explains Shaun Milano, Business Unit Director for Current Sensors. "Our customers want flexibility, and we're excited to provide these innovative, robust solutions in this new surface-mount option to complement our highly popular through-hole version. High current PCB designs improve power density and efficiency and this surface-mount option allows customers to realize these advantages with a simpler manufacturing process."
The ACS772/3 family of current sensor ICs has an enhanced feature set that helps engineers simplify their bill of materials and improve efficiency in the toughest of applications:
Small form footprint over competing solutions
Very fast 2.5uS response time that enables overcurrent fault detection – ideal for safety-critical applications
Enhanced working isolation voltages up to 1300V+ for basic DC voltage, and 650V+ for reinforced isolation DC voltage – No need for opto-isolators or other costly isolation techniques.
High accuracy of +/-2.1% over the lifetime of the IC
These features make the ACS772/3 family ideal for a range of applications from industrial robotics to electric vehicles.
"Many of our customers, especially in green energy applications, are looking for higher working voltages which can provide efficiency improvements and cost reductions in their systems," said Milano. "In solar applications for instance, raising the system voltage allows for longer strings, which eliminates significant wiring and connector combiner boxes.  It also allows for longer panel strings with higher rated output inverters, which reduces losses and improves efficiency.  These improvements are a win-win for our customers."
For more details on the ACS772/3 family, including the new surface-mount option, and to learn more from Allegro's current sensor team:
Visit comfor device specifications and the datasheets for the ACS772 and ACS773
Check out our application notes such as the ACS772and DC Current Capability and Fuse Characteristics of Current Sensors found in our Insights & Innovations library
Contact your local sales office for more information and to request samples today.