June 1, 2021– Mouser Electronics, Inc., the industry's leading New Product Introduction (NPI) distributor with the widest selection of semiconductors and electronic components, and ON Semiconductor, a leading supplier of semiconductor-based solutions driving energy-efficient innovations, have partnered to create a new content platform devoted to solutions for ultra-high-density power conversion. Designers and engineers can access the platform by visiting https://manufacturers.mouser.com/on-semiconductor-ultra-high-density-uhd-power-conversion.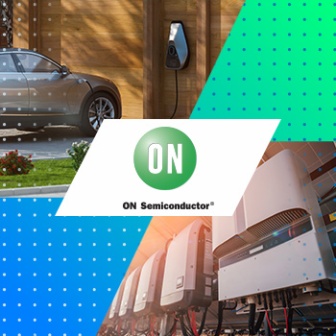 Power conversion, charging, and power management are essential functions for next-generation technologies, including electric vehicles, 5G telecom networks, and solar inverters. The new high-power power conversion resource site from Mouser and ON Semiconductor offers a one-stop resource for in-depth insights, educational videos, and product information to develop reliable power conversion solutions. The content platform features more than 20 articles, videos, and product links, delivering a comprehensive resource for high-performance automotive and power supply applications. Each article or video includes a convenient link to a relevant ON Semiconductor solution, allowing designers to quickly and easily find the products needed to address each use case.
Mouser offers a broad range of products from ON Semiconductor, including MOSFETs, silicon carbide (SiC) devices, and high current gate drivers. ON Semiconductor's Trench8 MOSFETs offer improved thermal performance for power conversion in EV chargers, motor drives, and high-performance DC-DC converters. The company'swide-bandgap SiCdevices provide higher reliability and superior switching for solar boost converters and inverters, uninterruptablepower supplies, and telecom power supplies.
To learn more about ON Semiconductor, visit https://www.mouser.com/manufacturer/on-semiconductor/.
To begin learning about high-power conversion solutions from Mouser and ON Semiconductor, visit https://manufacturers.mouser.com/on-semiconductor-ultra-high-density-uhd-power-conversion.
As a global authorized distributor, Mouser offers the world's widest selection of the newest semiconductors and electronic components — in stock and ready to ship. Mouser's customers can expect 100% certified, genuine products that are fully traceable from each of its manufacturer partners. To help speed customers' designs, Mouser's website hosts an extensive library of technical resources, including a Technical Resource Center, along with product data sheets, supplier-specific reference designs, application notes, technical design information, engineering tools and other helpful information.