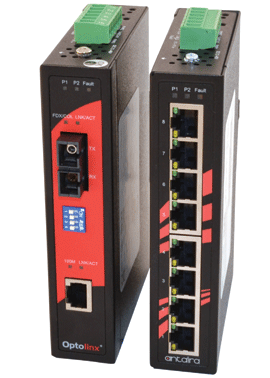 Acromag offers Antaira rugged Ethernet switches and a media converter to complement their remote Ethernet I/O product families.
Wixom, MI: The LNX Series of unmanaged rugged industrial Ethernet switches and IMC media converters are now available from Acromag. Select from a variety of models with up to 8 ports for copper or fiber cabling on fast Ethernet or Gigabit networks. Most units support extended -40 to 75°C operation and include a rugged IP30 aluminum enclosure that resists shock, vibration, and free-fall impacts.
The LNX-800AG model is an 8-port gigabit Ethernet switch. This switch provides eight 10/100/100Tx RJ45 ports with high EFT/ ESD protection and dual power input with reverse power polarity protection. The similar LNX-800A model is an economical 8-port switch for 10/100BaseTx network connections. For fiber optic connections, we offer the LNX-0702G gigabit Ethernet switch that provides two dual-rate 100/1000Fx SFP slots and five copper 10/100/1000Tx ports. Plug-in SFP transceivers offer a cost-effective solution to accommodate single and multi-mode communication. The LNX-802AG model provides two single or multi-mode gigabit fiber Ethernet ports plus six 10/100/1000Tx ports. Another option is the IMC-100A fiber media converter that connects between 10/100Base-Tx and 100Base-Fx cabling to extend the distance of your network, add flexibility and improve performance. All switches include auto MDI/MDI-X function, store-and-forward switching architecture, and a five-year warranty.
"These industrial Ethernet switches and media converters carry UL/cUL Class 1 Div 2 certifications, providing an ideal companion to our remote I/O modules," says Robert Greenfield, Acromag's Director of Sales & Marketing, "Now engineers can quickly source a solution for interfacing sensors and actuators in hazardous locations from a single supplier."
Acromag has designed and manufactured measurement and control products for more than 55 years. With a headquarters near Detroit, Michigan and a global network of sales representatives and distributors, Acromag products are sold worldwide. They offer a complete line of industrial I/O products including process instruments, signal conditioning equipment, data acquisition boards, distributed I/O modules, and network communication devices. Industries served include manufacturing, water services, power generation, mining, defense, and transportation.
For more information about Acromag products, call the Inside Sales Department at (248) 295-0880 or Marketing Communications at (248) 295-0866. You can also visit us online at www.acromag.com, e-mail sales@acromag.com, or write Acromag at 30765 S. Wixom Rd., Wixom, MI 48393USA.