June 10, 2021– Mouser Electronics, Inc., the authorized global distributor with the newest semiconductors and electronic components, and TE Connectivity (TE), a world leader in connectivity and sensors, have partnered to create a new content platform devoted to TE's newest resources, products, and technical insights. Engineers and designers can find the platform by visiting https://te.mouser.com/.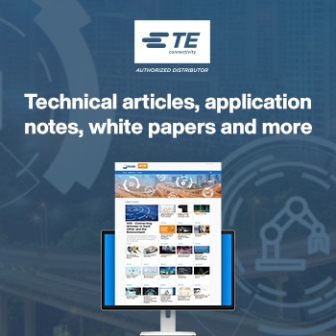 The new site from Mouser and TE offers a comprehensive, continually updated archive of infographics, videos, and technical articles, providing valuable insights into some of the most challenging aspects of connected automobile and smart home design. The platform is launching with more than 50 pieces of content, covering technologies including antennas, sensors, Internet of Things devices, and medical solutions. Each articleinclude links to relevant TE products, connecting usable information from industry experts to the technologies and solutions needed to support each application.
With over 69,000 TE products, Mouser offers an ever-broadening selection of the newest TE interconnect, passive, and sensor solutions, constantly adding new products. For example, Mouser stocks TE's FAKRA automotive connector system, whichis based on FAKRA RF and USCAR standardsrequirements and includes RF cable assemblies, terminals, and housings. The AmbiMate sensor module MS4 seriesboards offer a set of four core sensors— motion, light, temperature, and humidity —with optional sensors for volatile organic compounds (VOCs), sound, and CO2. The modules enable easy integration into a host product for applications such as indoor lighting, air quality, building automation, and energy management applications.
As a global authorized distributor, Mouser offers the world's widest selection of the newest semiconductors and electronic components — in stock and ready to ship. Mouser's customers can expect 100% certified, genuine products that are fully traceable from each of its manufacturer partners. To help speed customers' designs, Mouser's website hosts an extensive library of technical resources, including a Technical Resource Center, along with product data sheets, supplier-specific reference designs, application notes, technical design information, engineering tools and other helpful information.