STMicroelectronics  announced new entries in its popular STM32 family of microcontrollers, microprocessors, and wireless connectivity; STM32CO, STM32H5, STM32U5 microcontrollers along with 1GHz STM32MP13 microprocessor and STM32WBA52 Secure 2.4GHz SoC with Bluetooth 5.3 Low Energy (BLE).
In a recent media briefing, ST India experts presented the overview and key features of thenew products
STM32MP13 series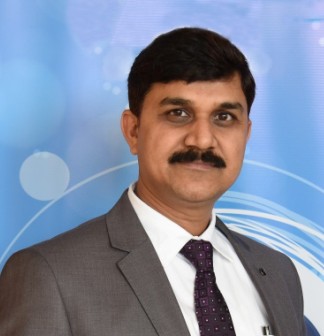 Vinay THAPLIYAL, Group Manager – Technical Marketing, South Asia, Microprocessors Product Group, STMicroelectronics
The first of STMicro's new STM32 parts is the STM32MP13, built around a 1GHz Arm Cortex-A7 application-class processing core.Mr. Vinay shares more insights about this product.
Energy savings, lower operating costs, improved safety and enhanced user experience are the main trends observed in smart buildings, factory automation and smart cities. The latest applications such as industrial automation, communication gateways, payment terminals, appliances, and control panels serving these trends are demanding processors with high software-execution capability, low power consumption, strengthened security and advanced feature integration.
ST enables next generation of smart devices for secure, safe and sustainable living with its latest STM32 microprocessors (MPUs).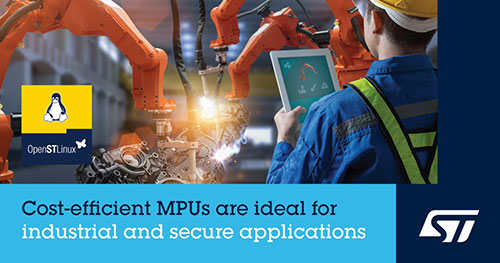 The STM32MP13 single-core MPUs deliver a perfect balance of power consumption, priceand increased capability for applications that demand performance above that of typical high-end embedded microcontrollers.
STM32MP135 microprocessors (MPUs) are based on a single Arm® Cortex®-A7 core running up to 1GHz. They feature a dedicated LCD-TFT parallel display interface, a 16-bit parallel camera and dual Ethernet ports.
STM32MP135 MPUs offer cost- & energy-efficient processing with certified security. The STM32MP131 lines bring advanced security features, including:
a cryptographic accelerator for hardware robustness,
memory protections against illegal access control,
code isolation mechanisms for runtime protection,
functions to ensure platform authentication during the product lifecycle,
and a complete security ecosystem.
The STM32MP13 MPUs are designed for entry-level Linux, bare metal or RTOS systems, with Microsoft Azure RTOS pre-integrated.
The STM32MP131 line is available in 3 packages for a cost-efficient PCB architecture.

STM32MP13 MPU offers certified security services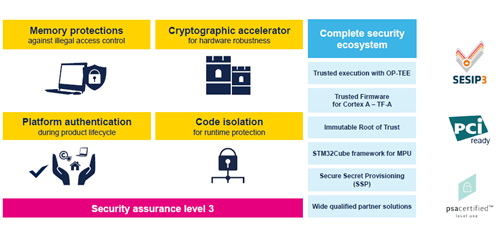 In addition to bridging the embedded MCU and application-processor worlds, the STM32MP13 MPUs are built around a comprehensive set of tools, leveraging the strong MCU ecosystem.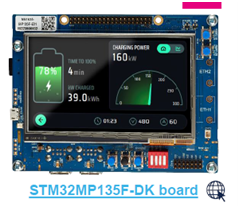 The STM32MP13 is well suited to use with the Qt graphics framework for fast and responsive development of sophisticated user interfaces. Users can take advantage of powerful tools, optimized libraries, and easy porting of code from STM32 MCU projects, which result from extensive cooperation between ST and Qt as an ST Authorized Partner. Qt commercial versions available through official QBSP for STM32MP135F-DK board
Applications
The STM32MP1 series offers general-purpose and multi-market microprocessors (MPU), targeting a wide range of industrial applications.
Industrial
Retail
Small Appliances
Infrastructure
Embedded security
Medical and health care
The STM32MP13 MPUs include the STM32MP131, STM32MP133, and STM32MP135.
STM32MP13 software tools

For further information please go to https://www.st.com/stm32mp1.
STM32WBA52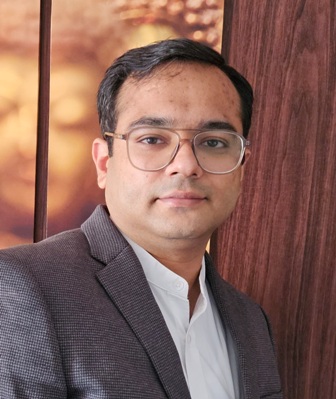 Mohit ARORA, GPM Wireless Marketing Manager, Microcontroller & Digital ICs Group, STMicroelectronics
The STM32WBA52, meanwhile, is designed for ultra-low-power Bluetooth projects. Its main processor core is an Arm Cortex-M33 running at 100MHz with an all-new2.4GHz radio supportingBluetooth 5.3 Low Energy (BLE) offering a +10dBm output power and data rates up to 2Mb/s. each chip can handle 20 simultaneous connections, the company claims, while the agility of the platform to offer flexibility of scaling the power modeshelps to achieve extended battery life without sacrificing the radio latency and performance of communication.
Mr. Mohitoutlines more features of this product and explains how the underlying security architecture benefits the IoT device developers and provide them confidence in massive deployment of IoT nodes in field ensuring security and upgradability over long service life and parallelly eases the next step by addingenhanced wireless, cut battery power consumption, strengthen cyber-protection, and boost processing in the edge.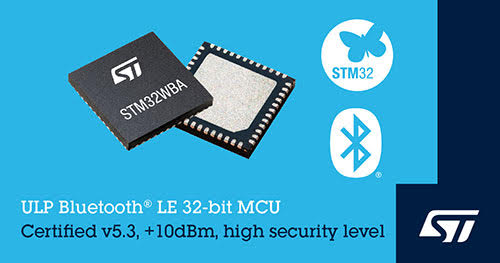 This new wireless microcontroller family offers the Bluetooth Low Energy 5.3 certification and features enhanced security features that meet the Arm PSA Level 3 and SESIP-3 IoT security standards.
Based on the Arm® Cortex®-M33 core featuring TrustZone® technology, the STM32WBA series provides a high level of security, protecting keys, data, firmware IP, and preventing hacks or device cloning.
Leveraging the underlying STM32U5 architecture, the STM32WBA series is an ultra-low-power platform and offers inherited digital and analog peripherals suitable for many applications, from industrial to smart home and consumer markets.
The STM32WBA52 family of microcontrollers is successor the company's flagship Cortex-M4-based STM32WB wireless microcontrollers. However, it comes with a more advanced security-enabled version with the Cortex-M33 core that has ARM TrustZoneTM and an all-new high-performance radio. It also has an inbuilt power amplifier supporting +10dBm of transmission powerand can support up to 20 simultaneous connections.
The STM32WBA52 variant comes in two parts. The STM32WBA52CG has 1Mbyte of flash and 128kbyte of RAM, while the STM32WBA52CE has 512k of flash and 96k of RAM. Both flash and RAM get ECC (error code correction) for data integrity, and both devices come in a 7 x 7mm exposed pad UFQFPN48 package.
The STM32WBA52 family of microcontrollers is expected to be a game-changer in the IoT and wireless applications space. Its enhanced security features, high data bandwidth, and improved range make it an ideal solution for IoT devices and other wireless applications that require reliable and secure connectivity.
Backed with the famous STM32CubeMX and STM32 software development ecosystem, the platform further simplifies the development for designers saving time and providing high reliability with compliance in firmware development.
With the launch of STM32WBA family, STMicroelectronics is once again setting a standard for wireless microcontroller technology.
STM32WBA offers the essential features for wireless IoT devices including:
High data rate to ensure fast and reliable data transfer
Long range capability to enlarge communication range
High output power to increase communication range thanks to +10 dBm of output power
Low-power dynamically scalable power architecture to extend battery lifetime
Features
Bluetooth Low Energy 5.3
Based on Arm Cortex-M33 at 100 MHz with TrustZone technology
Leveraging STM32U5 ultra-low-power platform
Low-power DMA (LPDMA)
Flexible power-saving states with fast wake-up times
Digital and analog peripherals fromSTM32U5 platform
Applications
Energy Meters
Smart City Nodes
On demand WAN connectivity
Consumer Medical
Power tools
Health and Fitness devices
Home automation
Industrial
Smart homes
Software tools for STM32WBA

STM32C0/STM32H5/STM32U5
Sridhar ETHIRAJ, Sr. Manager – Technical Marketing & Applications, India, General-Purpose Microcontrollers Sub-Group, STMicroelectronics
Finally, Mr. Sridhar Ethirajgives a brief introduction of the new 3 MCU series STM32C0, STM32H5 and STM32U5 and explains its key features and specifications.
STM32C0
Your next 8-bit MCU is a 32-bit. It's called STM32C0!
The STM32C0, ST's most affordable 32-bit MCU,makes 32-bit capabilities accessible to alldevelopers.Bridging the gap between 8-bit or 16-bit MCUs and higher performance 32-bit MCUs, the STM32C0 provides access to the benefits of STM32 designs. Powered by the industry-standard Arm® Cortex®-M0+ core running at 48 MHz.
The STM32C0 is targeted for applications like home appliances, industrial pumps, fans, smoke detectors, and so on, that are typically served by 8-bit and 16-bit MCUs. Setting the lowest STM32 price point ever, the STM32C0x1 line makes no compromise on design quality and delivers a performance far beyond the existing 8-bit architectures.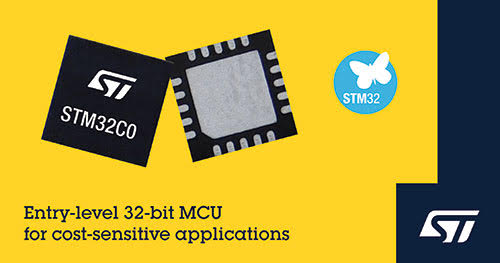 The STM32C0 series, now in high-volume production and available for shipment, is covered by ST's 10-year longevity program, renewed every year. STM32C0 MCUs are available in 8- to 48-pin packages, including packages offering the smallest area and thickness, such as the WLCSP12, the UFQFPN and the tiny 3 x 3 mm UFQFPN20 package.
STM32C0 key features and specifications:
MCU Core -Arm 32-bit Cortex-M0+ CPU @ up to 48 MHz
Memory – 6KB (STM32C011x4/x6) or 12KB (STM32C031x4/x6) SRAM with HW parity check
Storage – 32KB flash with protection
Peripheral interfaces

Up to 45x fast I/Os some of which are 5V tolerant; Note: up to 18x fast I/Os for STM32C011x4/x6

12-bit, 0.4 µs ADC (up to 13 ext. channels); range: 0 to 3.6 V

2x USARTs with master/slave synchronous SPI; one supporting ISO7816 interface, LIN, IrDA capability, auto baud rate detection, and wakeup feature

1x SPI up to 24 Mbps with 4- to 16-bit programmable bit frame; multiplexed with I2S audio interface

Timers

16-bit for advanced motor control

4x 16-bit general-purpose

Debugging – Serial wire debug (SWD)
CRC calculation unit
Clock management

4 to 48 MHz crystal oscillator

32 kHz crystal oscillator with calibration

Internal 48 MHz RC oscillator (±1 %)

Internal 32 kHz RC oscillator (±5 %)

Reset and power management

Voltage range: 2.0 V to 3.6 V

Power-on/Power-down reset (POR/PDR)

Programmable Brownout reset (BOR)

Low-power modes: Sleep, Stop, Standby, Shutdown

Packages
Temperature Ranges – -40°C to 85°C/105°C/125°C
With STM32C0, application designers can start with an entry-level 32-bit MCU that leaves room for future product upgrades, thanks to the broad STM32 portfolio and ecosystem. The STM32C0x1 shares the same technological and design platform as the STM32G0, and benefits from a consistent pinout mapping.

STM32H5
The new STM32H5 MCUs contain the embedded core from Arm®, the Cortex®-M33, which blends high performance with security, energy efficiency, and affordability, to best address the mid-range class of MCU-based applications. Indeed, it's the world's highest performing Cortex-M33 implementation, running at 250MHz and 375 DMIPS for an EEMBC CoreMark® industry-reference score of 1023.
The STM32H5 is most notable, however, for being the first STM32 series to include STM32Trust TEE Secure Manager, developed in partnership with ProvenRun. The STM32H5 come with system-on-chip (SoC) security services accessed via an industry-standard API. This facility, called STM32Trust TEE Secure Manager, saves developers writing their own code while providing security services developed according to known best practice.The STM32H5 MCUs are also SIL-ready for products that must meet an appropriate safety integrity level (SIL).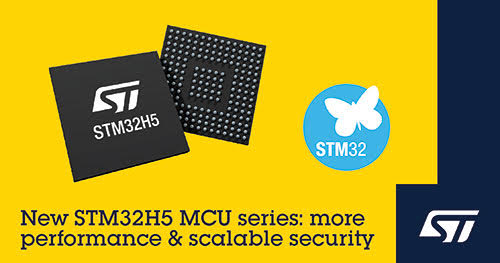 Typical targeted applications for the STM32H5 MCUs includesAir conditioning systems, home appliances, alarm systems, industrial PLCs, motor controls, industrial pumps, communication gateways, lighting controls, and energy conversion, as well as consumer products such as PC peripherals, smartphones accessories, and so on.
STM32H5 key features and specifications:
MCU core – Arm Cortex-M33 core with TrustZone technology, digital signal processing (DSP) and floating-point unit (FPU) running up to 250 MHz; Up to  375 DMIPS and a 1023 CoreMark score executing from the flash memory
Memory and Storage

STM32H563/573/562 – 1 to 2 Mbytes of flash memory, 640 Kbytes of SRAM

STM32H503 – 128 Kbytes of flash memory and 32 Kbytes of RAM.

OSPI serial flash memory interface

Up to 2x SDMMC FMC interfaces

Camera interface (except for STM32H503)
Networking – 10/100M Ethernet MAC (STM32H563/573 devices only)
USB – USB 2.0 full-speed host and device, USB Type-C with USB Power Delivery support
Embedded peripherals

Up to 2x CAN-FD interfaces

Up to 2x 12-bit ADC (5Msps)

Multiple 16- and 32-bit timers

Additional Security on STM32H573 only

Secure Manager with secure trusted execution environment (TEE) software

Compatible with TF-M PSA APIs

Target SESIP and PSA certification Level 3

TRNG FIPS SP800-90B compliant, target CMVP entropy validation certification

Secure Key storage with hardware unique key (HUK)

Secure firmware install (SFI) to authenticate and protect software IP during initial programming

Debug access controlled by ECDSA-P256 authentication

ST-iRoT – Pre-configured immutable root of trust, with secure boot, firmware update, serial loader, and secure debug mechanisms

Power efficiency (for STM32H563/573 for reference as other parts have different efficiency numbers)

Embedded switched-mode power supply (SMPS) to scale down the supply voltage.

61 µA/MHz typical at VDD = 3.3 V (drain power voltage) and 25°C in run mode (peripherals off) with SMPS option

51 µA typically in stop mode with full RAM retention (low-power mode)

3.5 µA typically in standby mode (low-power mode)

776 nA typically in VBAT (battery voltage mode) with RTC (low-power mode)

Package – WLCSP25 to LQFP176/UFBGA176
Development tools for STM32H5 series

STM32U5
STM32U5 series offers advanced power-saving microcontrollers, based on Arm® Cortex®-M33 core to meet the most demanding power/performance requirements for smart applications, including wearables, HMI, personal medical devices, home automation, and industrial sensors.
STM32U5 is the first STM32 to receive SESIP and PSA level 3 certification.Built-in, certified security features take cyber protection to a new level and streamline your IoT design process.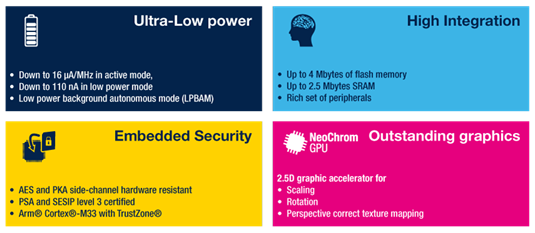 The new MCUs extend the memory range from 128Kbyte Flash and 274KB of SRAM for cost-sensitive applications, while also adding high-density versions for complex applications and sophisticated smartphone-like user interfaces. Among these, the STM32U59x/5Ax with 4Mbyte Flash and 2.5Mbyte SRAM has the largest on-chip memory of any STM32 MCU to date.The STM32U5 series also breaks the constraints on graphics performance that typically apply to ultra-low-power MCUs. Variants with ST's advanced NeoChrom graphics processing unit (GPU) on-chip can run a sophisticated graphical user interface (GUI), previously only possible with an expensive microprocessor-based system. A tiny, embedded processor can now host smartphone-like user experiences and GUI development can leverage ST's TouchGFX framework that now features SVG support and rich graphical assets.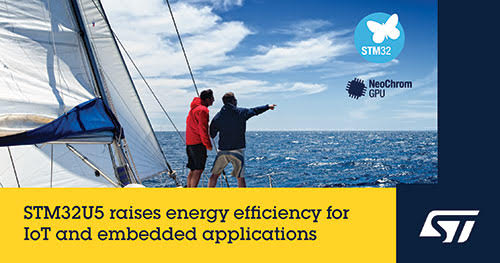 Also, unlike the processors typically needed to support such sophisticated capabilities, STM32U5 MCUs come in an economical LQFP100 package that permits a simplified PCB construction with minimal layer count. Developers can accelerate their projects using resources including the STM32CubeU5 software package, new NUCLEO-U545RE and NUCLEO-U5A5ZJ development boards, and the STM32U5A9J-DK Discovery kit for graphics.
STM32 development tools