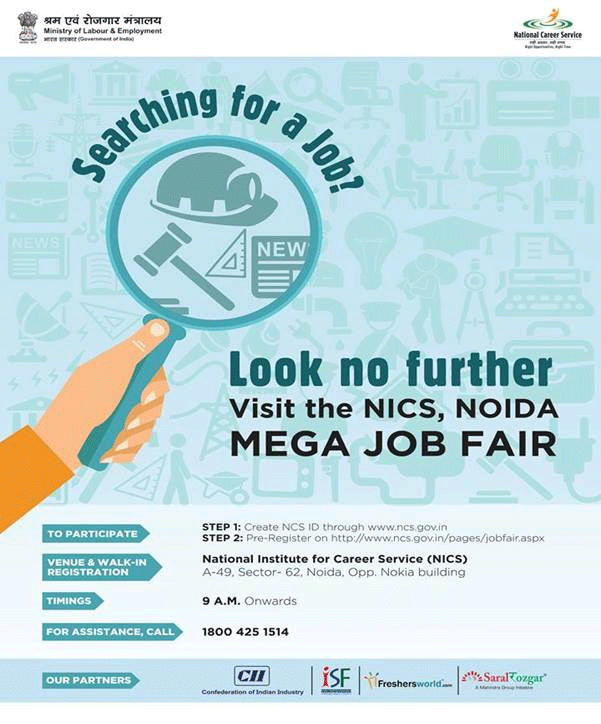 The Ministry of Labour and Employment is implementing the National Career Service (NCS) Project as a mission mode project, by transforming the national employment service, to provide a host of career-related services such as dynamic job matching, career counselling, job notifications, vocational guidance, information on skill development courses, internships and alike. A national portal (www.ncs.gov.in) is operational and provides a nation-wide platform to connect job seekers and employers.
The National Career Service, in collaboration with Confederation of Indian Industry (CII), Indian Staffing Federation (ISF), Saral Rozgar, Fresher's World, Uber and other partners, is hosting a Mega Job Fair at its National Institute for Career Services (NICS) Campus in Noida on 20th July 2016. Companies such as Dominos, Eureka Forbes, Uber, MuthootGroup, Holiday Inn, Manpower and many more will offer vacancies across multiple verticals for interested jobseekers.
We invite you to Pre-Register at the link mentioned below to participate.
Job Fair Location Details:
Venue: National Institute for Career Services (erstwhile CIRTES),
A-49, Sector- 62, Noida, Uttar Pradesh, 201301.
Near IIM, Lucknow, Noida Campus. (Opposite Nokia Building)
Nearest metro station: Noida City Centre
Google Maps Link: https://goo.gl/maps/u5oPiM8LvJm
Date:    Wednesday, July 20th, 2016
Time:    9 AM onwards
For Participation in the Job Fair:
Steps for Pre-Registration:
               1. Register at www.ncs.gov.in to obtain your NCS ID.
               2. Fill in the registration form at http://www.ncs.gov.in/Pages/jobfair.aspx  to register yourself for the Job Fair.
Selection Procedure: On the spot interviews and selection
Documents Required:
               a) Latest CV/Resume/Bio-data
               b) Colour Passport size photos
               c) ID Proof
               d) Educational Certificates: 10th/12th/Diploma/Certificates/Graduation/Post Graduation  
               e) Experience documents (if any)
            Note: Please bring originals and adequate number of photocopies of the aforementioned documents.
For any queries you can contact the NCS Toll Free Number 1800-425-1514.