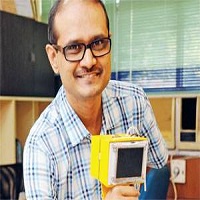 Vehant Technologies in collaboration with NanoSniff Technologies presents, NanoSniffer: A ground breaking technology among explosive trace detection systems. Nanosniffer, can detect dangerous explosives like Nitroglycerine, Ammonium Nitrate and RDX in less than 10 seconds. Costing just one-third of the price of imported ETDs, the 100 per cent indigenously-made NanoSniffer can also identify and classify explosives into different classes of military, conventional and homemade explosives.
Dr. Nitin Kale, Co-Founder & CTO of NanoSniff Technologies shares more insights about this product in this interview.
1. What was the motivation behind developing an indigenous ETD at Vehant?
With an objective of growing the scope of product offerings by the company, Vehant collaborated with NanoSniff Technologies for manufacturing and marketing the technological revelation in the field of explosive trace detection: NanoSniffer. The co-founder and CTO of NanoSniff Technologies, Nitin Kale, with his team of dedicated researchers at IIT Mumbai, developed NanoSniffer with the idea of significantly reducing the pain points faced by users in explosive trace detection. ETD is applicable in countering terrorist threats and activities. Detecting traces of explosives is a complex & expensive task due to multiple factors involved such as a availability of a wide variety of materials that can be used as explosives with a dearth of easily detectable signatures. The weapons can be deployed in various forms, and the sensors with high sensitivity and selectivity are required to trace them which are very expensive. This is where NanoSniffer arrived to cause a radical change in the ETD industry.
Vehant strives to grow its R&D abilities to pursue new opportunities of futuristic technology trends. In order to make progress in research, Vehant Technologies has been actively involved with different research hubs in the country like IIT Delhi, IIT Mumbai, IIT Mandi and the like. Such involvement led to this collaboration.
2. What is Nanosniffer and how does it work?
NanoSniffer is developed with the idea of addressing the issues encountered in explosive trace detection and majorly, to pull the cost of such systems down. It is a portable unit, that detects traces of explosives of the order of a few nanograms, and rejects all interfering non explosive compounds.
NanoSniffer is composed of Micro Electro-Mechanical System (MEMS) micro-sensors, High Sensitivity & High Speed Electronic Instrumentation, and Intelligent Mathematical Algorithms. The basic sensing principle is MicroDifferential Scanning Calorimetry. An operator can operate on NanoSniffer by collecting the traces of explosives on a swipe and insert it in the machine. The particles reach the micro-sensor which examines whether the particles are explosive or not. The signals from micro-sensor are fed to algorithms and the results are sent to the operator.
Nanosniff Technologies' MEMS Microsensor based instrument NanoSniffer, satisfies all the requirements of an effective platform for the trace detection of explosives.
The machine requires to purge itself once used for explosive trace detection. This involves removal of all traces of the analyte from the sensor. Unlike the detectors present in the market, the purge time of NanoSniffer is apparently low. The machine purges quickly and switches back to operational mode in no time.
3. Who are the takers of this product? Which industry does it target to cater?
Explosive Trace Detectors are used for screening passengers & visitors at crowded locations and storage locations that are prone to terrorist activities. NanoSniffer intercepts entities who may have handled explosives. The industries that are benefited with NanoSniffer include hospitality industry, transportation industry, retail industry, malls and corporate premises.
The major stakeholders who are benefited by this product include sea port, airport and train station authorities. NanoSniffer is further useful at the checkpoints of critical facilities like cargo hubs and data centers. This includes tracking explosives in cargo or in luggage of passengers, etc. The product contributes in making the locations safer for the people and cargo in transit.
4. What is the global and Indian market size for security screening products?
The security screening product market in India comprises 5% of the global market. As valued in 2020, it constituted $7 billion and in 2021 it was $9 billion, further anticipated to grow 13% by 2030. The market for such products in India is expected to grow exponentially post the pandemic since the demand for such products has increased manifold. If we talk about the specific market of ETD, it has less takers due to the expensive options available in the market. NanoSniffer has supercharged the growth of ETD market with its new technology.
5. How is this product different from its competitors?
NanoSniffer uses physics-based approach of MEMS-Microsensor that distinguishes explosives from non-explosives. Its High-Sensitivity Electronics & Highly Intelligent Algorithms make it possible to detect less than 10 nanograms of explosives, while rejecting all non-explosives. This technology is the game changer in ETD industry and differentiates this product from other alternatives available in the market.
Furthermore, NanoSniffer addresses all the problem areas found in its competitors like high percentage of false positives, long purge times or burn-in time and need of swipes to be heated before use (presumably to eliminate the effect of moisture). All these issues are taken care of in developing NanoSniffer thus giving it an upper edge over its competitors. The product comes in non-bulky portable form can is capable of detecting a wide range of commercial, military and homemade explosives such as RDX, PETN, TNT, AN, PEK etc. The exceptionally low purge time of NanoSniffer makes it the best suitable choice for authorities like airports, train stations, hotels, corporate spaces, etc. When compared with its counterparts.
6. Do you have any plans to take this product globally?
Owing to the physics-based conceptual approach of NanoSniffer and significant difference in affordability as compared to its competitors, the product is qualified to be showcased globally. We are soon planning a European testing for Nanosniffer. Vehant already manufactures, supplies and exports security surveillance systems across the globe including AI based enterprise solutions. Our global reach spans to more than 10 countries.
7. Anything else you may want to add.
Explosive Trace Detector developed by NanoSniff Technologies and manufactured by Vehant Technologies is a Make in India product. The design, development, fabrication and testing of the apparatus, electronic instrumentation and algorithms are all done within the country.
Vehant Technologies manufactures its own line of security surveillance and security screening solutions. The products include baggage and cargo scanning solutions, under vehicle scanning systems, pallet scanning and ETD systems. The solutions cater to multiple industries like hospitality, logistics, retail and personal protective equipment and safety industry. They are developed keeping in mind the needs of central authorities to facilitate the security infrastructure within India as well as abroad. The solutions offered in this context include traffic monitoring, violation detection and junction enforcement as well as physical security solutions.