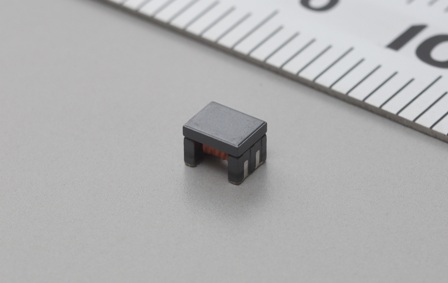 Hoofddorp, Netherlands: Murata announces the wire-wound common mode choke coil (CMCC) DLW32SH101XF2, which is the world's first CMCC to support the most challenging requirements of differential to common mode rejection (DCMR) Class 3. As a result, the new device fulfils the IEC62228-3 requirement for use in CAN FD, the flexible data rate version of CAN bus that is necessary for next-generation automotive networks.
In the automotive industry, technologies that control basic automobile behaviour are advancing rapidly with the aim of providing greater efficiency as well as safer and more comfortable driving. In keeping with this market demand and the higher levels of data involved, faster automotive networks are required for connecting electronic control units (ECUs), sensors, and motors, with the result that conventional CAN, which transmits data at a rate of up to 1 Mbps (megabits per second) is being replaced with the faster CAN FD.
The new product draws on Murata's CMCC design and manufacturing expertise to deliver the high performance and reliability required for CMCCs used in CAN FD networks. The DLW32SH101XF2 offers a common-mode inductance of 100 uH and is rated for currents up to 115 mA and voltages of 50 VDC. Supplied in tape-and-reel format, the surface mounted device is constructed in a tiny 1210 package, measuring just 3.2 mm x 2.5 mm making it the world's smallest CAN FD CMCC supporting Class 3 due to Murata's unique wire-wound structure.
The RoHS and REACH compliant device is capable of operating in temperatures between -40 degrees C and +125  degrees C. It is qualified to AEC-Q200, confirming its suitability for demanding automotive environments.
References
https://www.murata.com/en-eu/products/info/emc/emifil/2019/0729
https://www.murata.com/en-eu/products/productdetail?partno=DLW32SH101XF2%23