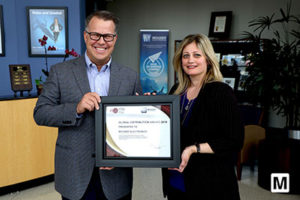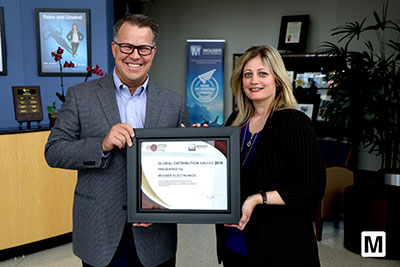 May 22, 2019 – Mouser Electronics, Inc., the authorized global distributor with the newest semiconductors and electronic components, has been honored with the Global Distribution Award from FTDI Chip, a major developer of innovative silicon solutions. The award was presented to Mouser in recognition of the company's significant sales growth in 2018.
"I am very pleased to present Mouser with this award, as an acknowledgement of its team's ceaseless efforts to grow annual revenues, open up further sales channels and simultaneously provide the highest levels of customer service," said Fred Dart, CEO and founder of FTDI Chip.
"It is an honor for us to receive this award from FTDI Chip," said Jeff Newell, Senior Vice President of Products at Mouser Electronics. "This is the culmination of many years of continued hard work paying off, and it exemplifies our primary goal of ensuring we are able to fully attend to the needs of the customer base across all regions."
Through its powerful online presence, Mouser has gained traction with the design engineering community in key Asian, North American and European markets, as well as addressing new application opportunities that are starting to emerge.
As a result, Mouser Electronics has brought about a major increase in unit shipments across the entire FTDI Chip range of silicon solutions in addition to its supporting cables, development hardware and evaluation modules, while also offering rapid delivery from a centralized stock reserve. This encompasses the manufacturer's USB Full-Speed, High-Speed and SuperSpeed (USB 3.0/3.1) bridging and controller products.
For more information on the FTDI Chip product portfolio available from Mouser, visit www.mouser.com/ftdi.
With its broad product line and unsurpassed customer service, Mouser strives to empower innovation among design engineers and buyers by delivering advanced technologies. Mouser stocks the world's widest selection of the latest semiconductors and electronic components for the newest design projects. Mouser Electronics' website is continually updated and offers advanced search methods to help customers quickly locate inventory. Mouser.com also houses data sheets, supplier-specific reference designs, application notes, technical design information, and engineering tools.