November 6, 2023– Mouser Electronics, Inc., the industry's leading New Product Introduction (NPI) distributor with the widest selection of semiconductors and electronic components™, is excited to unveil an exclusive video interview with Dean Kamen, founder of  FIRST®, which inspires innovation and fosters well-rounded STEM and life skills in hundreds of thousands of young people every year.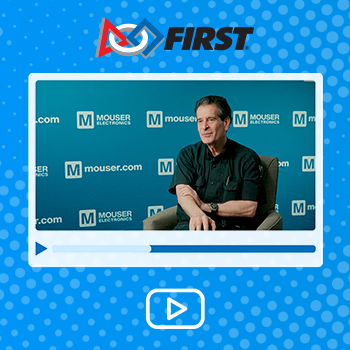 Since 2014, Mouser has been a major supporter of FIRST (For Inspiration and Recognition of Science and Technology), a leading youth-serving nonprofit advancing science, technology, engineering, and math (STEM) education through hands-on robotics programs that teach problem-solving, teamwork and more.
In the roughly 10-minute video, Kamen discusses the secrets of success and the importance of technology, as well as the impact of FIRST on youth. "The world of tech keeps raising the bar on what's possible," Kamen said. "There are millions of jobs out there, not just jobs, but careers out there for kids who know how to use technology." To watch the interview, visithttps://www.mouser.com/video/?play=6336741597112.
"We are very proud to support FIRST and are excited to present this video featuring Dean Kamen, esteemed inventor and engineer. From our founding, education has been an important facet of Mouser's mission," said Kevin Hess, Mouser's Senior Vice President of Marketing. "The FIRST organization gives students around the world a platform for innovation, a chance to learn valuable engineering skills, and an opportunity to build character and self-esteem."
The interview occurred in Houston, Texas, during the 2023 FIRST Championship, which Mouser co-sponsored. During the 2022-23 season, more than 669,000 youth from 106 countries worldwide discovered and solved engineering challenges through a series of robotics programs. Mouser was also a major presenting co-sponsor of the recent FIRST in Texas/UIL State Robotics Championships, also in Houston. Mouser also supports FIRST teams across its community, providing grants for local high school teams.
To learn more about how Mouser supports FIRST, visit https://www.mouser.com/first/.
Mouser / Dean Kamen Interview
Page 2
As a global authorized distributor, Mouser offers the widest selection of the newest semiconductors, electronic components and industrial automation products. Mouser's customers can expect 100% certified, genuine products that are fully traceable from each of its manufacturer partners. To help speed customers' designs, Mouser's website hosts an extensive library of technical resources, including a Technical Resource Center, along with product data sheets, supplier-specific reference designs, application notes, technical design information, engineering tools and other helpful information.
Engineers can stay abreast of today's exciting product, technology and application news through Mouser's complimentary e-newsletter. Mouser's email news and reference subscriptions are customizable to the unique and changing project needs of customers and subscribers. No other distributor gives engineers this much customization and control over the information they receive. Learn about emerging technologies, product trends and more by signing up today at https://sub.info.mouser.com/subscriber/.