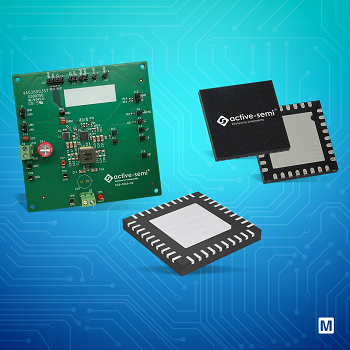 October 30, 2019 – Mouser Electronics, Inc., an authorized global distributor of Qorvo products, is pleased to announce that it is stocking the Active-Semi line of products. The programmable power management solutions provide customers with compelling simplicity, efficiency and design flexibility, resulting in smaller footprints, lower bill of material costs, and reduced time to market.
Qorvo, a leading provider of innovative RF solutions that connect the world, recently acquired Active-Semi as part of Qorvo's Infrastructure and Defense Products (IDP) group. With the addition of Active-Semi products, Qorvo gains a portfolio of analog and mixed signal systems-on-chips (SoCs) used in charging, powering and embedded digital control systems for end applications, such as industrial, commercial and consumer equipment. Qorvo's power management products include power application microcontrollers, DC/DC, AC/DC, PMU and LED drivers that significantly reduce solution size and cost while improving system-level reliability.
Power efficiency is increasingly a core requirement in electronic applications in IDP's existing markets, including 5G base stations, active phased arrays for defense, automotive, and IoT. Active-Semi's programmable mixed signal power solutions deliver simplicity, efficiency and flexibility, resulting in lower bill of material (BOM) costs, smaller footprints, and faster time to market.
To see the newest products from Qorvo, go to www.mouser.com/new/qorvo.
For more information on Qorvo, visit www.mouser.com/manufacturer/qorvo.
Mouser / Mouser Electronics Stocks Full Qorvo Active-Semi Portfolio
With its broad product line and unsurpassed customer service, Mouser strives to empower innovation among design engineers and buyers by delivering advanced technologies. Mouser stocks the world's widest selection of the latest semiconductors and electronic components for the newest design projects. Mouser Electronics' website is continually updated and offers advanced search methods to help customers quickly locate inventory. Mouser.com also houses data sheets, supplier-specific reference designs, application notes, technical design information, and engineering tools.