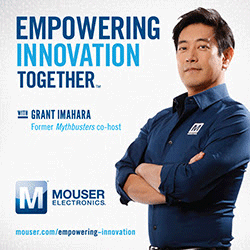 Global Distributor Is Electronic Components Sponsor at Bombay, Chennai, Kharagpur, Roorkee
December 29, 2017 – Mouser Electronics, Inc., the New Product Introduction (NPI) leader that empowers innovation, will be a major sponsor at the upcoming Indian Institutes of Technology (IITs) annual technical festivals.
Mouser representatives will attend Asia's largest science and technology festival, Techfest at IIT Bombay, Dec. 29–31, followed by Shaastra at IIT Madras, the first ISO-certified student-run festival, Jan. 4–7. Mouser will then attend annual techno-management fest Kshitij at IIT Kharagpur, Jan. 19–21, and Cognizance at IIT Roorkee, March 23–25.
"From our founding, education has played a large part in Mouser's involvement in our community. We are happy to help foster and encourage a new generation of engineers and scientists in our own community," said Mark Burr-Lonnon, Mouser's Senior Vice President of Global Service & EMEA and APAC Business. "The Indian Institutes of Technology annual technical fests are highly creative and educational endeavors, and we are very proud of this group of talented innovators and engineers.
" At Techfest (IIT Bombay), the Mouser booth will feature a showcase of versatile, next-generation development boards that can help engineers create their next designs. Visitors to the booth can also participate in a simple design quiz and enter for a chance to win a PocketBeagle and BeagleBone Blue boards.
Also at Techfest, Mouser will sponsor the International Robotics Challenge (IRC), which pits robotics gladiators against each other in combat. Mouser is the premier Electronic Components Sponsor of Techfest, empowering 10 teams to create intelligent robots that sense, measure, power, connect and interpret. In January, Mouser is sponsoring the ElecKart challenge at Shaastra 2018 (IIT Madras), and the Robowars challenge at Kshitij 2018 (IIT Kharagpur).
Techfest 2017 will see over 1.6 lakh youth, with an outreach of 2,500 colleges across the country and 500 colleges from outside India. Other IITs festivals will have an outreach between 40,000 to 75,000.
With its broad product line and unsurpassed customer service, Mouser strives to empower innovation among design engineers and buyers by delivering advanced technologies. Mouser stocks the world's widest selection of the latest semiconductors and electronic components for the newest design projects. Mouser Electronics' website is continually updated and offers advanced search methods to help customers quickly locate inventory. Mouser.com also houses data sheets, supplier-specific reference designs, application notes, technical design information, and engineering tools.