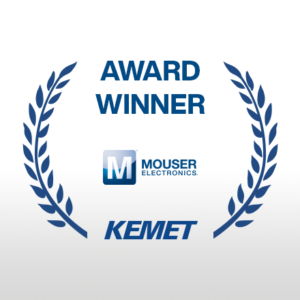 Mouser Electronics, Inc., the authorized global distributor with the newest semiconductors and electronic components, announces that it has been honored with the High Service Distributor of the Year award for fiscal year 2020 from KEMET, a subsidiary of Yageo Corporation. This is the fifth year for Mouser to receive this top award.
Mouser was measured against its competition in a variety of areas, including POA and POS growth, new product introductions, customer count growth, marketing capabilities, and overall process excellence. Mouser previously won the High Service Distributor of the Year award 2012–2014 and in 2016. Last year, KEMET honored Mouser with the Best High Service Distribution award for the Asia Pacific region, as well as the Digital Marketing Partner of the Year for the third consecutive year.
"Mouser is honored to receive this important recognition from valued supplier partner KEMET," said Tom Busher, Vice President of Supplier Management at Mouser Electronics. "We greatly value our business partnership with KEMET and look forward to continuing to provide the newest, most innovative products from KEMET to design engineers and purchasing professionals around the world."
"KEMET congratulates Mouser on its exemplary performance this year," stated Johnny Boan, KEMET Vice President, Global Distribution. "The KEMET High Service Distributor of the Year award is presented to our best-performing channel partner. We are very excited to once again present the Mouser team with this top award and look forward to future prosperity."
Founded in 1919, KEMET Corporation is a global supplier of electronic components with over 1,300 active patents and worldwide manufacturing plants that are leading the advancement of materials science and cutting-edge electrical solutions. KEMET offers customers the broadest selection of capacitor technologies in the industry, along with an expanding range of electromechanical devices, electromagnetic compatibility solutions and supercapacitors. To learn more about the wide range of KEMET products available at Mouser Electronics, visit https://www.mouser.com/manufacturer/kemet-electronics/.
As an authorized distributor, Mouser Electronics is focused on the rapid introduction of new products and technologies, giving customers an edge and helping speed time to market. Over 800 semiconductor and electronic component manufacturers count on Mouser to help them introduce their products into the global marketplace. Mouser's customers can expect 100% certified, genuine products that are fully traceable from each manufacturer.Mouser / KEMET High Service Distributor of the Year Award
With its broad product line and unsurpassed customer service, Mouser strives to empower innovation among design engineers and buyers by delivering advanced technologies. Mouser stocks the world's widest selection of the latest semiconductors and electronic components for the newest design projects. Mouser Electronics' website is continually updated and offers advanced search methods to help customers quickly locate inventory. Mouser.com also houses data sheets, supplier-specific reference designs, application notes, technical design information, and engineering tools.