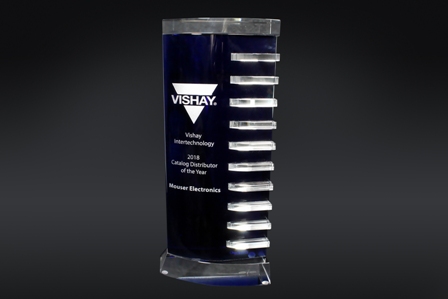 May 31, 2019 – Mouser Electronics, Inc., the authorized global distributor with the newest semiconductors and electronic components, has been named the 2018 Catalog Distributor of the Year by Vishay Intertechnology, a leading global manufacturer of a wide range of discrete semiconductors and passive electronic components. In addition, Mouser received the specialized 2018 Semiconductor Catalog Distributor of the Year award for the second consecutive year. The prominent awards were presented at the annual Electronics Distribution Show held recently in Las Vegas.
"We are pleased to present the Mouser Americas team with these top two awards for their outstanding sales performance in 2018," said Dave Valetta, Executive Vice President of Sales at Vishay Intertechnology. "High service distribution is a central part of our business strategy and Mouser's best-in-class performance and service sets them apart."
"It is our honor to receive these top awards from our valued partner Vishay," said Jeff Newell, Mouser Senior Vice President of Products. "Our customers across the globe depend on Vishay components for their designs. We look forward to many more years of continued business success together."
This year, Vishay also named Mouser as the 2018 e-Commerce Distributor of the Year for EMEA. Vishay previously recognized Mouser's distribution efforts with the 2017 Semiconductor Catalog Distributor of the Year, the 2015 North American Catalog Distributor of the Year award, as well as the e-Commerce Distributor of the Year for Europe award in 2013, 2014, 2015, and 2016.
Vishay manufactures a wide range of discrete semiconductors, including diodes, MOSFETs and infrared optoelectronics, in addition to passive electronic components such as resistors, inductors and capacitors. To learn more about Vishay products available at Mouser Electronics, visit www.mouser.com/vishay.
Mouser / 2019 Vishay Distributor of the Year Awards
Page Two
With its broad product line and unsurpassed customer service, Mouser strives to empower innovation among design engineers and buyers by delivering advanced technologies. Mouser stocks the world's widest selection of the latest semiconductors and electronic components for the newest design projects. Mouser Electronics' website is continually updated and offers advanced search methods to help customers quickly locate inventory. Mouser.com also houses data sheets, supplier-specific reference designs, application notes, technical design information, and engineering tools.