Mosaic Microsystems Secures $2 Million Seed Round from BlueSky Capital and Corning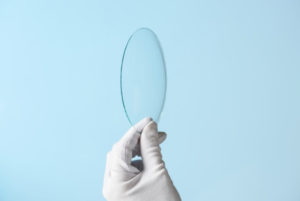 Rochester, NY: — Mosaic Microsystems, a microelectronics and photonics packaging company, providing thin glass substrates and through glass vias (TGVs) for next generation products in RF communications, particularly for 5G, as well as MEMS and sensors for the internet of things (IoT) has reported a significant investment into the business. Christine Whitman, Chairman and CEO of Mosaic Microsystems today announced it has agreed to a $2 million Seed round investment. Madison Hamman, Managing Director of BlueSky Capital, with close ties to Samtec Electronics, led the investment round with participation from Corning Incorporated (NYSE: GLW). Jeremy Wooldridge, General Manager of Samtec Microelectronics, will join Mosaic's Board of Directors.
The seed financing builds on a strong year for Mosaic including securing an exclusive license from Corning for thin glass handling solutions, a Phase I NASA SBIR Contract to establish manufacturable implementation of thin glass for next generation electronics packaging and a growing list of customers developing their next generation products on thin glass. Mosaic has recruited technology experts from Kodak, Corning and ON Semiconductor to serve on the company's leadership team.
"Mosaic's offering is well-timed with the rapidly increasing demand for solutions that expand upon the performance of incumbent material choices, and drive business results," said Madison Hamman. "We believe the market will continue to require new and differentiated thin substrate solutions for RF communications and advanced packaging. Mosaic is well positioned to establish these solutions for the industry and we are excited to collaborate with and support them as they work to build a great company in an exciting industry."
Mosaic's solutions provide customers with the ability to establish high volume manufacturing of thin glass solutions using existing industry standard equipment and processes.
At the heart of Mosaic's solution is a proprietary temporary bond technology, which uses innovative approaches to support thin glass substrates during downstream processing.
Key features and benefits of the Mosaic platform include:
An extremely thin temporary bonding layer, allowing for precision via fill with conductive materials using current semiconductor processes and equipment
Ability to process at elevated temperatures > 400˚C
No outgas from the temporary bond layer
A mechanical de-bond that leverages existing industry processes
"With our patented process, we are unlocking the advantages of thin glass solutions, while fully leveraging well-established processes and equipment in the existing supply chain to maximize the benefits, while minimizing cost," said Mosaic Chairman and Chief Executive Officer. "With the financial support and domain expertise of Samtec Electronics, we will be able to execute our vision even more rapidly and broadly – and with the benefit of experience, perspective and relationships of our industry." This investment from BlueSky Capital is the beginning of an exciting relationship with our newest partner with common strategic goals. This investment provides further foundation to build on an excellent 2019 to meet our goals in 2020 and beyond.