Heilind Electronics Inc. has been awarded the "2017 Molex Distributor of the Year Award" from Molex, a globally recognized provider of electronic solutions in a wide range of industries.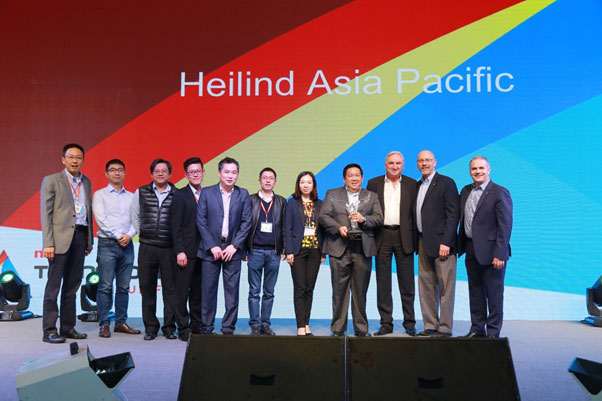 The 2017 Molex Distributor of the Year award recognizes Heilind as a valuable partner with excellence in demonstrating sales achievements with operational management. Heilind Electronics brings the technology solutions of Molex to a broad range of markets during the past years. By making breakthrough in the business model and service innovation, Heilind expanded its offering to provide value added service. The award honors Heilind's leading performance in the industry and emphasizes its achievement and success.
Aldo Lopez, President of Molex Global Sales & Marketing, Fred Bell, VP of Molex Global Distribution and David Ho, VP of Molex APS Sales & Marketing presented the "2017 Molex Distributor of the Year" award to Heilind Electronics for their achievements in the previous year. They recognized that Heilind has demonstrated a strong commitment to expanding the relationship between two companies over the past years.
Responding to the award, Martin Kent, President of Asia Pacific and Europe, said: "This award signifies the consistency of our partnership with Molex, with favorable communication and collaboration at the executive and field levels. Receiving the Molex Distributor of the Year award is truly an honor." Alan Chuah commented: "I will like to thank Molex for this honorable recognition. Molex is a strategic supplier of ours and we are very proud to be their preferred channel partner. We look forward to more synergy in our strategic partnership with Molex."
Heilind is authorized to distribute inventory for more than 100 world-leading manufacturers and support both original equipment and contract manufacturers in all market segments of the electronics industry, stocking products from the industry's leading manufacturers in 25 component categories, with a particular focus on interconnect and electromechanical products.