Connectors deliver superior power performance while handling the most severe shock and vibration conditions in the industry
LISLE, IL – May 7, 2014 – Molex Incorporated introduces the ruggedizedImperium™ High-Voltage/High-Current (HVHC) Connector System, a high voltage and amperage solution that delivers reliable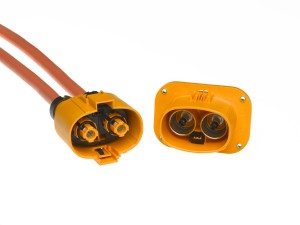 performance even in the most extreme shock and vibration conditions found in today's commercial vehicles. Ideal for hybrid-electric and all-electric technologies, the connectors are capable of handling up to 1000V and 250.0A per contact and provide vehicle OEMs and electrification system architects with superior shielding performance and current density. Available in 8.00 and 11.00mm diameter versions, a variety of configurations are in development for future release that will help meet customer-specific applications.
"Hybrid-electric and all-electric commercial vehicles are having an incredibly positive impact on the environment by significantly lowering emissions and oil consumption," said Rich Benson, new product development manager, Molex. "Advanced electrification technologies are critical for their continued success and Molex has answered the call for a product that can reliably and safely deliver power under extremely harsh conditions."
The Imperium HVHC system features an integrated MX150™ High-Voltage Interlock Loop (HVIL) crimp terminal that helps eliminate high-voltage arcing during disconnects and helps ensure operator safety. The closed-loop 360-degree shield design with grounding tabs provides EMI and RFI mitigation for more reliable in-vehicle communications while the header face shield simplifies the grounding process for device manufacturers. The one-piece contacts (in plug and receptacle) reduce resistance for lower power loss and the protective, insulated plug and receptacle contact caps meet touch-proof industry safety requirements. The connectors are also rated IP6K9K while mated to provide protection from fluids in harsh environments.