New Delhi, 16 April 2014 – Microchip Technology Inc., a leading provider of microcontroller, mixed-signal, analog and Flash-IP solutions, has launched the MCP8063 – a highly integrated, cost-effective, automotive AEC-Q100-qualified motor driver that delivers superior performance in a small, 8-pin, 4×4 mm DFN package.  It is also the world's first to combine all of those features with 1.5A peak phase current for the 180-degree sinusoidal drive of a variety of three-phase brushless DC motor and fan applications.  This integration reduces cost and PCB area, and the high sinusoidal-drive performance provides high efficiency, low acoustic noise and low mechanical vibration for energy savings and quiet operation.  Additionally, the MCP8063 includes safety features such as thermal shutdown, over-current limiting and lock-up protection.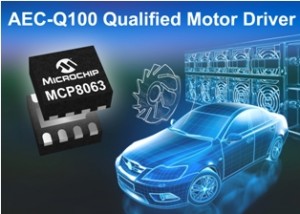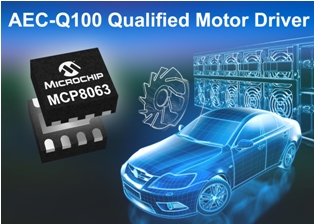 The designers of a broad range of motor applications in markets such as the automotive, IT, industrial and home-appliance sectors are faced with increasing regulatory and consumer demands for continued reductions in cost, space, noise and power consumption; with better performance and safety.  The integrated features of the MCP8063 motor driver solve these problems cost-effectively, while providing a wide operating temperature range of -40 to +125-degrees Celsius.  Additionally, it supports the sensorless driving of BLDC motors, which eliminates the cost and space of a Hall sensor.
"Customers requested a compact, high-performance motor driver with high current and a wide temperature range, while adhering to the AEC-Q100 quality standard," said Bryan J. Liddiard, marketing vice president of Microchip's Analog and Interface Products Division.  "Our new MCP8063 delivers on that request, providing a complete single-chip solution for a wide variety of three-phase, brushless DC applications at attractive price points."
The MCP8063 motor driver works stand-alone or in conjunction with Microchip's large portfolio of PIC® microcontrollers and dsPIC® digital signal controllers.  This offers a high degree of flexibility for everything from simple voltage control to closed-loop motor speed control using high-performance algorithms, such as sinusoidal sensorless drive.