CAP12XX family provides smaller form factor, 5V operation and improved proximity performance for consumer and automotive applications
26 November 2013 [NASDAQ:  MCHP] — Microchip Technology Inc., a leading provider of microcontroller, mixed-signal, analog and Flash-IP solutions, has unveiled a new family of capacitive touch controllers – the CAP12XX Family.  These turnkey capacitive touch controllers expand the CAP11XX RightTouch® product portfolio, providing a wide variety of slider, button and proximity functionality. Additionally, the CAP12XX controllers make it easy for designers to add aesthetically pleasing, low-cost touch interfaces.  This new six-member family comprises the CAP1203, CAP1293, CAP1206, CAP1296, CAP1208 and CAP1298, available in  8- to 16-pin packages.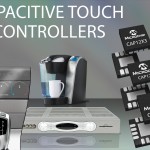 The CAP12XX family serves a wide range of applications in the consumer-electronic (e.g. tablets, printers, audio players, small appliances and televisions) and automotive markets (e.g. automotive interior controls, central stack and overhead lights), among others.  The family provides designers with improved proximity performance and 3.3V to 5V operation.  It is also a lower-cost option when integrated LED drivers are not required.
"The CAP12XX family is a perfect complement to Microchip's mTouch™ firmware-based solutions," said Fanie Duvenhage, director of Microchip's Human-Machine Interface Division.  "Microchip is a true one-stop shop for designers who need  input sensing solutions, offering turnkey and firmware solutions for keys/proximity, sliders, touch pads, and touch screens, as well as 3D gesturing with our GestIC® Technology."
Development Support
In support of the new devices, Microchip also introduced the CAP1298 Evaluation Board and CAP1188 Evaluation Board Which are both available for purchase today.
Availability
All six members of the CAP12XX family are available today for sampling and volume production in 10,000-unit quantities.  The CAP1203 and CAP1293 are available in 2×3 mm, 8-pin TDFN packages.  The CAP1206 and CAP1296 are available in 3×3 mm, 10-pin DFN packages.  The CAP1208 and CAP1298 are available in 3×3 mm, 16-pin QFN packages.