Booth #2733
MicroCare Corporation, leading manufacturer of critical cleaning, coating and lubrication products, is introducing its newest range of electronics cleaners and cost-saving SMT production aids at IPC APEX EXPO, Booth #2733, in San Diego CA from 24-26 February.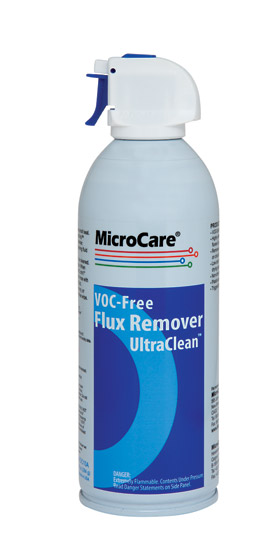 At the Expo, MicroCare will introduce the newly-improved VOC-free TidyPen® '60-second sticky stuff remover', a time-saving tool for electronics manufacturing, repair shops, medical facilities, and any place where sticky labels are used.
The new TidyPen® speeds the removal of almost anything sticky, including many conformal coatings, flux residues, glues, tapes, labels and some inks. The formulation has been designed to be VOC and REACH compliant, and is also safe to use on plastics, gaskets and other materials of construction found on PCBs. Importantly, the improved TidyPen® is packaged for vending machines, which are becoming increasingly important cost-control systems and widely used in many facilities.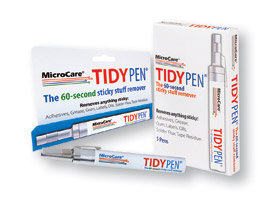 Another important introduction at the show is the unique VOC-Free Flux Remover–UltraClean™, which meets the market's need for high performance PCB cleaners. It is particularly effective at removing lead-free no-clean fluxes and pastes, and also is successful in removing silicone-based coatings and adhesives. UltraClean™ is a non-chlorinated, halogen-free cleaning fluid formulated specifically for rework and repair tasks, and is suitable for use in removing fingerprints, moisture, light oxides, dust and other airborne contamination frequently found on circuit boards returned for warranty or service work. The product is VOC-exempt, complies with California CARB (California Resources Board) rules and SCAQMD (South Coast Air Quality Management District) VOC regulations. It is has also been labelled to comply with Canadian WHMIS and European REACH requirements, plus the new Globally Harmonized Safety system for shipping hazardous chemicals.
"With these two introductions, using new chemistries not found in cleaners from other companies, MicroCare has attracted significant interest from electronics' manufacturers world-wide because they are wishing to use cleaners that are completely free of halogens and ozone-depleting substances," noted Tom Tattersall, MicroCare CEO. "Together with our other "green" products within the portfolio, MicroCare clearly is the industry leader in environmentally enlightened cleaning."
Unique in the industry, the cleaner can be dispensed using the MicroCare TriggerGrip™ cleaning system which improves cleaning results and lowers operating costs.
The full range of MicroCare Corp. products will be exhibited on booth #2733 from 24-26 February 2015 at IPC APEX EXPO.